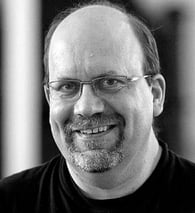 David Robertson is the minister of St Peter's Free Church in Dundee Scotland, the original church of Robert Murray M'Cheyne. He is married to Annabel and together they have three children.
In addition to his pastoral responsibilities, David is also a trustee of the Solas Centre for Public Christianity and works to fulfill the Centre's mission of engaging culture with the message of Christ. As is reflected in his blog, he is particularly interested in the growth, decline, and renewal of the church in the West. He is the author of four books, Magnificent Obsession, The Dawkins Letters, 14 Quench and Awakening.
---
Download Audio | Purchase CD | Purchase DVD | Watch Video
With no guarantee of the influence Christianity will continue to have on our world, is the Church prepared for what is to come? David Robertson addresses the pastor's role to comfort people and prepare the way for the Lord. While the obstacles of preaching are great, the unchanging Word of God brings life where nothing else can. When God's Word is preached, it cannot return empty.
---
Download Audio | Purchase CD | Purchase DVD | Watch Video
Everyone has a worldview that guides their behavior, but all philosophy without Christ is hollow. David Robertson exhorts pastors to be aware of the empty philosophies that are common today. Pastors should guard their people against the hopelessness of the world's answers to life's biggest questions and teach the fullness that is only found in Christ.
---
Download Audio | Purchase CD | Purchase DVD | Watch Video
All preachers are to be evangelists because all preaching should be Christ-centered, but how is the message of the Gospel to be communicated? To answer this question, the pastor must consider the goal of preaching. In this message, David Robertson equips pastors with basic principles to help them to teach in a way that leaves the listener dwelling on a great God rather than a great preacher.
---