Dear Friend,
Here at Parkside, we're nearing the end of a series of studies in 2 Timothy. In the closing verses, Paul makes a heartfelt appeal for Timothy to come and visit him in person, and to come soon. Imprisoned in Rome, anticipating the end of his earthly life, and deserted by Demas, it's not difficult to imagine Paul's loneliness and his longing to see a cherished and trusted friend face to face.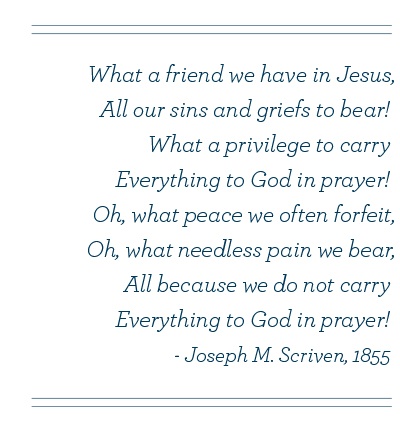 In a matter of a few words, "Do your best to come to me soon," we're given a wonderful picture of friendship. The relationship between Paul and Timothy was not based in shared success, or influence, or having children of the same age, or even common interests, but in their love for Christ, which surpasses all other bonds and holds us together through much adversity. The book of Proverbs teaches that, "A friend loves at all times, and a brother is born for adversity" (Proverbs 17:17).
Paul longs for the crown of righteousness awaiting him in the company of Christ Jesus, but he also longs to see Timothy. While Paul's heart was in heaven, his feet were planted firmly on the ground and his love for Jesus' appearing does not diminish his desire to see the arrival of Timothy.
There is great richness in the enduring faithfulness of a true friend; the kind of friend that Jonathan was to David by helping David find strength in the Lord, and the kind of friend that Timothy was to Paul, and who Paul addressed as "my true child in the faith."
We're not meant to live isolated from one another in our pursuit of a heavenly crown, but to follow Christ's model as the embodiment of a loving friend to those around us. The characteristics of honesty, consistency, and sensitivity that the Bible holds as standards will help us enjoy lasting relationships that offer refuge in times of trial, counsel in times of challenge, and celebration in times of joy. "There is a friend who sticks closer than a brother" (Proverbs 18:24).
This month at Truth For Life, we're making available a book on this topic called, The Company We Keep: In Search of Biblical Friendship, written by my colleague Jonathan Holmes, a pastor here at Parkside. In a day when much of our interpersonal communication takes place electronically, this book offers good advice for fostering personal relationships, and particularly relationships deeply rooted in our love for Jesus, that glorify God, enrich our lives, and draw us closer to Christ.
With my love in the Lord Jesus,

---