"Here is a wonderful primer on the nature of biblical friendship—what it means and why it matters." – Alistair Begg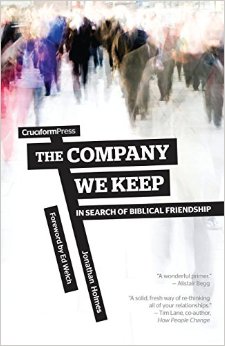 Could it be that our understanding of friendship is more informed by pop culture and social media, and less informed by what Scripture has to say? Is it possible that friendship exists for a greater purpose than merely our enjoyment and comfort?
In his book The Company We Keep, pastor and author Jonathan Holmes challenges readers with the idea of cultivating biblical friendships and how this kind of relationship can affect our daily lives and spiritual growth. Deep, honest, transparent, and liberating, biblical friendship is first and foremost about a relationship with Jesus Christ and can help to mold us into His likeness. Delve into this book and explore how your friendships can better embody this wonderful reality!
Hear Jonathan Holmes talk about his book and explain more about the idea of biblical friendship:
If you are a Truthpartner, call Customer Service at 1.888.588.7884 or email Truth For Life at truthpartners@truthforlife.org to request this monthly resource.
---