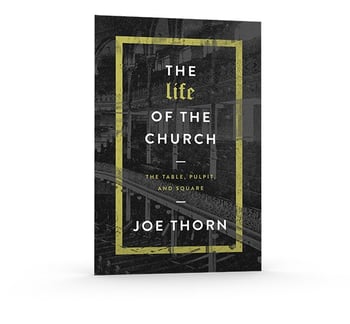 Church--some may hear the word and think, "building with a steeple." Others may imagine an obligation or destination, as in, "Let's go to church." The purpose of the church, though, is much more profound, and its mission from Scripture is clear: to make disciples of Christ.
The Life of the Church, written by Joe Thorn, uses simple terms to illustrate what it looks like when the main work of a local church is happening in accordance with the Bible's design. The book is divided into three sections-"The Table," "The Pulpit, and "The Square"--and uses these environments to give structure to the big picture of how disciple-making is accomplished in and by God's people.
While "The Table" focuses on fellowship within a body of believers and "The Pulpit" addresses God's people meeting to receive the Word and ordinances, "The Square" discusses what it looks like when believers are sent into the world as "salt and light." Each environment is of critical importance to the vital heartbeat of a healthy church.
Thorn writes, "God wants His kingdom to advance and He wants His people to be active in more ways than simply being active members of a congregation." The Life of the Church aims to help every reader understand that mission.
Whether you use it for personal study, one-on-one reading, or Sunday school, this biblical, balanced, clearly written book is one that you'll want in your collection.
---