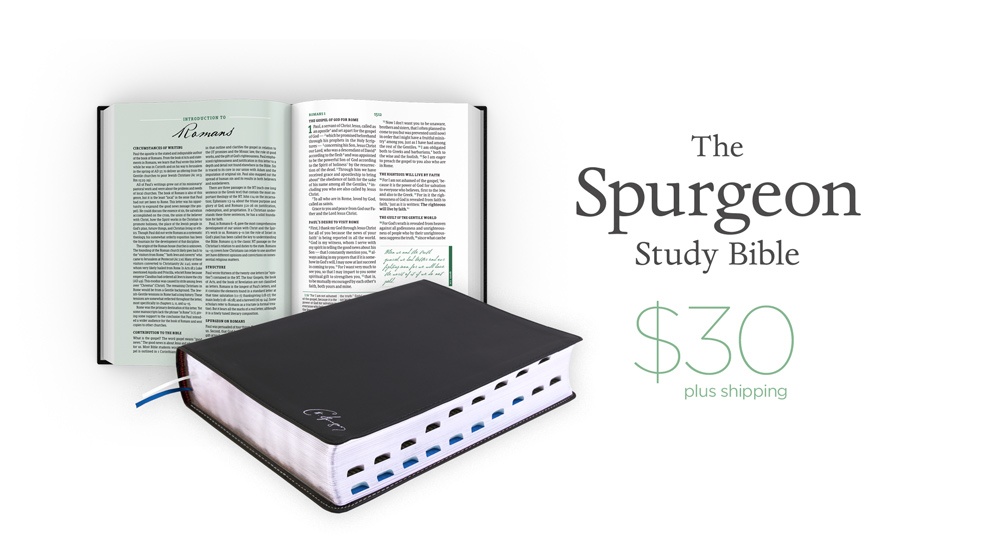 If you've ever purchased a book, e-book, study guide, or USB from Truth For Life, you've likely been surprised by the low cost of the quality resource you received!
There is a faithful group of people to thank for this—other listeners who benefit from Alistair Begg's Bible teaching in the same way you have! These Truthpartners are listeners who have moved beyond listening to give monthly to Truth For Life, not only so that the full archive of teaching can be accessed for free online, but so that cost is never a barrier to anyone who wants to purchase study materials about God's Word.
Because of Truthpartner giving, Truth For Life is able to offer all of it's hard-copy and digital teaching resources at cost, with no mark up.
Today, you're invited to purchase a truly exceptional resource at a significantly reduced cost, thanks to your fellow listeners who are Truthpartners. The Spurgeon Study Bible presents notes, sermons, quotes, and illustrations—alongside Scripture—from renowned theologian, Charles Spurgeon, the 19th-century pastor known as the "Prince of Preachers."
Charles Spurgeon proclaimed the Gospel to more than 10 million people in his lifetime. In the decades since, his written sermons have offered spiritual insight and inspiration to millions more—including Alistair Begg!
This special, fully-indexed Truth For Life edition of the Spurgeon Study Bible can be purchased in genuine leather from Truth For Life for only $30, thanks to the generous and faithful support from Truthpartners.
On their behalf, we invite you to enjoy this wonderful keepsake Bible. And when you complete your purchase, will you consider joining the Truthpartner team by clicking the Truthpartner link in your purchase confirmation? Your partnership will directly benefit another listener in the same way someone else's generosity has benefited you today! Purchase your copy and become a Truthpartner today!
---