Dear Friend,
On January 20th, America will inaugurate the 45th President of the United States. By convention, incoming Presidents raise their right hand and place their left on the Bible when they take the oath of office. The oath is often concluded with the words "So help me God," and as we hear these words spoken by the new President, we'll affirm that as a nation we were founded, and remain, "one nation, under God."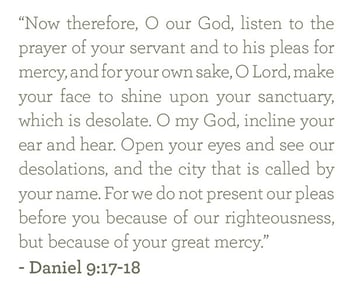 God is the creator and sustainer of everyone and everything and His power and greatness are "immeasurable." He is "able to do far more abundantly than all that we ask or think, according to the power at work within us" (Eph. 3:20). This provides perspective as we pray for the future of the United States, and for the world. "For nothing will be impossible with God" (Luke 1:37).
As we look to this year and the years ahead, we continue to look to the TRUTH of God's Word for LIFE. Our program series this month seems particularly timely. And He Shall Reign is a brand new study in the book of Daniel.
The people in Daniel's day had to be reminded, as do we, that in the best and the worst of times, the believer's hope doesn't rest in kingdoms of this world but in the eternal kingdom that has come in the person and work of the Lord Jesus Christ. Unlike earthly kingdoms, which last only for a season, of Christ's kingdom there will be no end. God sets up kings and God takes them down and they exist only under God's dominion and sovereignty. So remember to view the daily news in light of the truth of Scripture and not the other way around. Let's ask God to do immeasurably more than we can ask or imagine, and rest in the assurance that one day every knee will bow to the One and Only King forever and ever. (Incidentally, the prayer that Daniel prays for his people in chapter 9 is a good one to follow!)
Additionally, if like me, you're always looking for help to guide your prayers, this month we're making available a hardcover devotional book that I highly recommend. Psalms By the Day is newly released from my late friend Alec Motyer, who has helped me more than any other to understand the Old Testament. He describes the psalmists as "people who knew far less about God than we do, yet loved Him a great deal more." This keepsake book is full of such gems and will make a generous gift to give to a friend.
Thank you for continuing to stand with us throughout 2016 and for your generous support at the close of the year. Your investment in Truth For Life is an investment with eternal ramifications. What a privilege we enjoy, as together we proclaim the unchanging truth of the Gospel in an ever-changing world.
With my love in the Lord Jesus,

---