Dear Friend,
The celebration of Easter fills our hearts with praise and our lips with song. We join the angels in declaring, "He is not here, for he has risen, as he said" (Matthew 28:6). Within a matter of six weeks, we'll rejoice that the Risen Lord is also the Ascended King!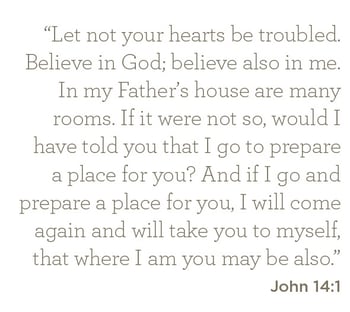 Luke describes the ascension of Jesus in the first chapter of Acts: "And when he had said these things, as they were looking on, he was lifted up, and a cloud took him out of their sight." Paul expands on this event in Ephesians, writing that God "raised him from the dead and seated him at his right hand in the heavenly places, far above all rule and authority and power and dominion, and above every name that is named, not only in this age but also in the one to come" (Ephesians 1:20-21).
Without the Ascension, the picture of Christ's incarnation and resurrection is incomplete. Jesus is not only Emmanuel in the manger and the Risen Messiah; He also appears in heaven on our behalf. I find it helpful to ponder this—particularly now with Easter behind us—so that I don't overlook where Jesus is and what He does for us now. Jesus is seated on the throne overseeing the universe, building His church, and interceding for us. The writer to the Hebrews says that Christ now appears for us in God's presence, intervening in our interest in a way that guarantees our welfare by ensuring that what He died to secure for us actually becomes ours.
As you go through your day, rest in this—that in Christ we have a Great High Priest mediating for us and pouring His grace out on us day by day.
In that same passage, Luke reminds us that the Ascension gives a picture of what is still to come. He writes that as Jesus was taken up, angels appeared to the apostles, explaining, "This Jesus, who was taken up from you into heaven, will come in the same way as you saw him go into heaven." This is where our hope as Christians rests—in the knowledge that Jesus will return bodily, visibly, and gloriously to reign over a kingdom that is eternal and free from sin.
If you'd like to invest time exploring these things further, you'll find our April program series a help. What Now?, which begins April 2, is a study in the final chapter of Luke and the first chapter of Acts. You can also learn more about the Ascension by listening to the message titled The Ascended King in our archive.
As for your library, I recommend The Compelling Community, a book that explores the characteristics of a local church where the Word of God is central to teaching, evangelism, and fellowship. The Gospel-Shaped Life gives an illustration of what it looks like when our faith and trust in Jesus shape all aspects of our beliefs, actions, and decisions. Both books are available from Truth For Life this month.
Thank you for your faithful partnership. You make it possible for us to share the Good News with many.
With my love in the Lord Jesus,

---