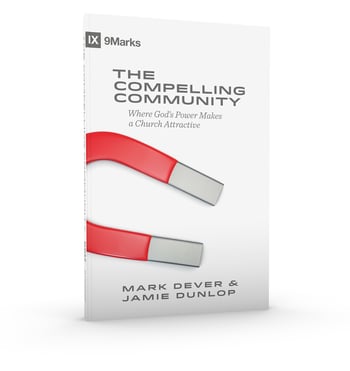 Community. How we define the term is probably based on our own expectations for a group's commonality and growth—and for most of us, finding a place to belong, engage, build relationships, and serve is an important consideration.
But what does a community that testifies to God's power look like? For God's people, community must simultaneously reach beyond the gatherings of small groups, fellowships, and outreach programs while remaining centered on one vital focus: God's plan for the church.
In The Compelling Community: Where God's Power Makes a Church Attractive, Mark Dever and Jamie Dunlop share the biblical principles that have been studied and put into practice in their own church. Addressing topics like equipping members, praying, facing discontentment, evangelizing, and even church planting, The Compelling Community explores how an "authentic, gospel-revealing community with supernatural depth and breadth is a natural outgrowth of belief in God's Word."
Helpful for pastors, elders, and others in positions of church leadership, The Compelling Community warns against the impatience that can lead to building a "Gospel-plus" community, which can actually undermine God's purposes for the local church. For any reader, this book offers clear and thought-provoking advice based on what God's Word has to say about a togetherness that transcends all boundaries to bless others.
---