Do you ever wonder exactly where your donation to Truth For Life goes?
The answer is, it brings the Bible teaching of Alistair Begg to countless people in every corner of the world! The cost to produce and distribute Truth For Life each day is substantial, and while Alistair's teaching is entirely free to access and unlimited to hear or watch online and through the mobile app, the cost to maintain the website and app is significant.
When you give to Truth For Life, your giving covers all of the expenses associated with:
broadcasting Truth For Life through over 1,800 radio outlets
offering free, unlimited access to Bible teaching on the website and mobile app
enabling Truth For Life to sell all our books, CDs, DVDs, and USBs at cost, with no mark up
and much, much more!
To learn about how much more your donation makes possible, browse our informative 2019 Ministry Update!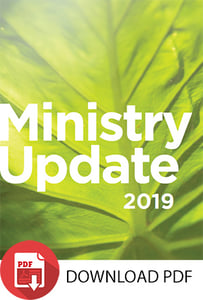 And after you do, will you click the link below to become a monthly giver and help fund this 100% listener-supported ministry as a Truthpartner?
---