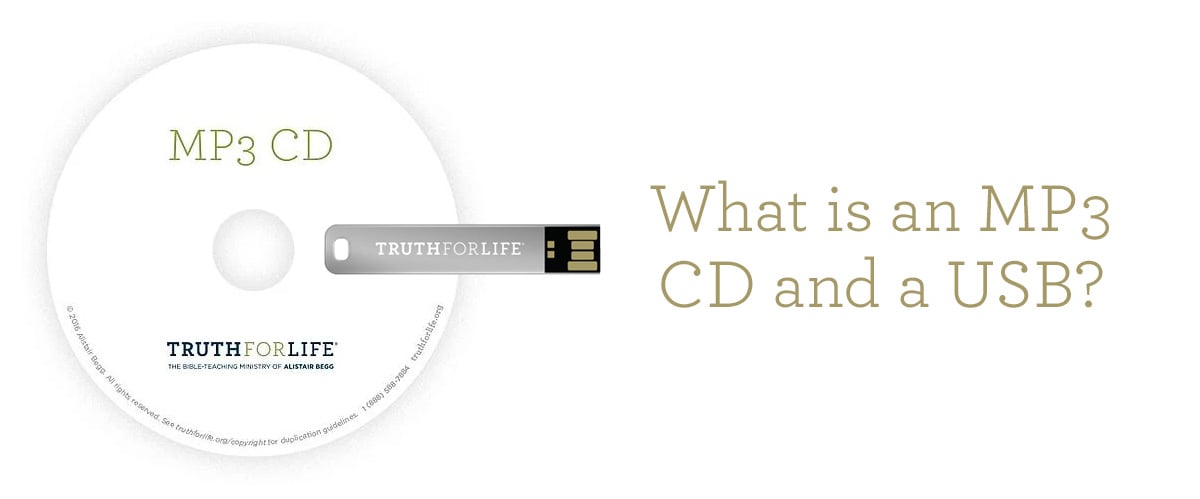 At Truth For Life, our goal is to teach the Bible where people are and in whatever format they choose. We offer our resources including CDs, DVDs, and books at no mark up so that the Gospel may be distributed without cost or barrier. Because of this goal, we offer several ways to listen to sermons by Alistair Begg such as MP3 CDs and USBs.
What is an MP3 CD?
MP3 CDs are an inexpensive way to listen to an entire series on one CD. On a MP3 CD, the audio files are compressed so that several sermons are downloaded onto one CD. On a regular CD only one sermon will be available. On a MP3 CD an entire series of sermons will be available. The number of sermons can vary depending on the series but MP3 CDs usually will hold 10 to 12 sermons. A MP3 CD costs $1.25.
Unfortunately a MP3 CD can't play on a regular CD player. It can play on a computer, MP3 player and a CD player that supports MP3 playback. Some newer cars have CD players that will play MP3 CDs.
---
What is a USB?
A USB (also known as a flash drive or thumb drive) is a portable storage device for computer files. We offer sermon series on USB as another way to make Bible teaching available at a minimal cost. Computers have a USB port where the USBs can be plugged in and the audio files can be listened to or downloaded on to a computer or MP3 player. Some cars also have USB ports. The number of sermons on a USB can vary depending on the series but most USBs can hold up to 80 sermons. Click here to learn how to use a USB on your computer
---