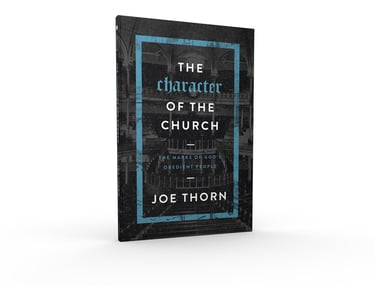 The Reformers concluded from Scripture that a true church exists where the Word of God is rightly preached and the ordinances are rightly administered. In its assembly, the local church is made up of believers united to fulfill the work commissioned by Jesus: making disciples of all the nations.
So what are the essential components of a church that keep its light shining brightly for the world to see?
The Character of the Church by pastor Joe Thorn explores the marks of a true and healthy church by looking to the authority and sufficiency of Scripture for God's design for the local body.
The book is structured around five clear essentials: the preaching of Scripture, the proper administration of the ordinances, the development of biblical leadership, the gracious implementation of church discipline, and a clear focus on the mission that Jesus gave the Church.
Biblical, balanced, and historically informed, The Character of the Church is suitable for a variety of audiences. This concise but important read is useful as training in membership classes, for discipleship groups, with elder boards, and even for devotional reading.
As the author insists, "What the church is determines what the church does." Truth For Life invites you to a deeper understanding and appreciation of God's Church.
---