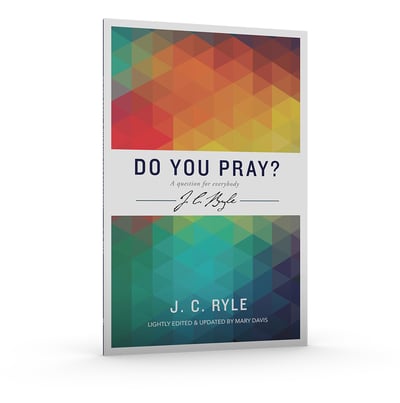 What can prayer do? Have you ever wondered? Consider J.C. Ryle's observations:
Happiness does not depend on our outward circumstances, but on the state of our hearts. Prayer can lighten our burdens; however heavy they are. It can call to our side the one who will help us to bear them. Prayer can open a door for us when the way ahead seems blocked. It can bring to our side our Lord who says, "This is the way, walk in it."1 Prayer can let in a ray of hope when all our prospects seem dark. It can bring down the one who say, "I will never leave you or forsake you."2 Prayer can bring us relief when those we love are taken away and the world feels empty. It can bring down the one who can fill the gap in our hearts with himself, and say to the waves within us, "Peace! Be still!"3 We do not want to be like Hagar in the wilderness who could not see the well of living waters even though they were so close beside her. Prayer is the secret of being a happy Christian and I know I cannot ask you a more useful question than this: Do you pray?
Be encouraged in your prayer life. Purchase your copy of Do You Pray: A Question for Everybody by J.C. Ryle.
Excerpt taken from p. 42 of Do You Pray: A Question for Everybody by J. C. Ryle, ed. by Mary Davis (ISBN 978-1-78397-217-3) EP Books, JPL Distribution, 3741 Linden Avenue Southeast, Grand Rapids, MI 49548 (www.jplbooks.com).
1) Isaiah 30:21. 2) Deuteronomy 31:8, Joshua 1:5 3) Mark 4:39
---