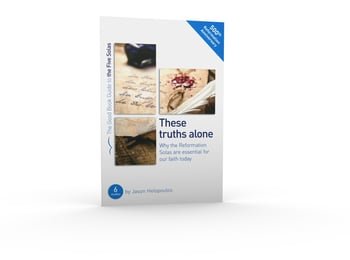 When Martin Luther first proposed his Ninety-Five Theses in 1517, he wasn't trying to be a revolutionary. 500 years later, though, we look back on that moment as the spark that ignited the Reformation. On that day, he kindled a passion for the Gospel that's still burning bright throughout the world.
The Gospel-centered legacy of Reformers like Luther remains as relevant as ever. One of the central elements of that legacy, called the "Five Solas," is the subject of a new study guide titled These Truths Alone: Why the Reformation Solas are essential for our faith today.
The "Five Solas" refers to five Latin phrases—sola scriptura, solus Christus, sola gratia, sola fide, and soli Deo gloria—that "assert that salvation is according to Scripture alone, in Christ alone, by grace alone, though faith alone, for the glory of God alone."
These Truths Alone is designed as a workbook for you to engage with on your own or with a group. Each chapter points to biblical passages that illustrate each sola's grounding in God's written Word. In addition to the workbook section, These Truths Alone also contains a helpful leader's guide with clear suggestions on how to facilitate small group discussion on each chapter.
If you're interested in learning how the ideas that started a spiritual revolution 500 years ago are still supremely relevant today, this resource is a great place to start!
---