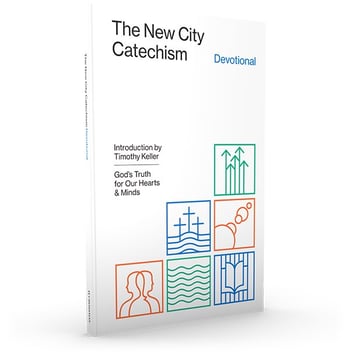 The practice of using a catechism to teach Christian beliefs is all but lost in contemporary churches.
In the 1500's, catechisms were written for at least three purposes. The first, was to set forth a comprehensive exposition of the Gospel. The second, was to present this exposition in such a way that the errors and false beliefs of the time, and in the culture, were addressed and counteracted. And third, to form a distinct people -- a counterculture -- that reflected the likeness of Christ, not only in individual character, but also in the communal life of the church.
So, why write new catechisms?
The three primary purposes of catechisms are as relevant today as they were in the days of Martin Luther. While our exposition of Gospel doctrine must be in line with older catechisms that are true to the Word of God, the nature of contemporary influences demand that the language and emphasis of catechisms be pertinent to the modern culture.
The New City Catechism was created for this purpose. It provides a comprehensive affirmation of biblical truth in contemporary language by presenting 52 questions and answers designed to orally and communally teach children, church congregations, and members of Bible studies the foundations of our faith.
Use of The New City Catechism comes highly recommended by Truth For Life. To help you dive deep into the richness of the instruction, The New City Catechism Devotional, which also includes Scripture references and pastor commentary (including Alistair) is yours by request when you financially support Truth For Life today.
---