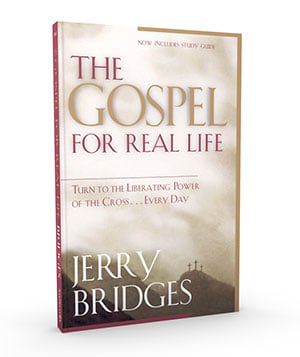 How do you view the Gospel? It's the key to salvation, for sure, but how does it change the daily lives of believers?
In his book, The Gospel For Real Life, author Jerry Bridges explains how the Gospel has the power to continuously transform those who believe. It's not only the gateway to salvation, but the pathway believers should walk daily to experience the fullness of life in Christ.
In a bold explanation of our sinful condition, Bridges makes clear our desperate need for a savior. He shows us how to live thankful, humble lives in acknowledgement that, through grace, our sin has been nailed to the cross. Giving a clear, easy-to-understand picture of sin and redemption, The Gospel for Real Life is a wonderful resource for believers at any level of maturity, and also a great help to those who've never read the Gospel, or don't understand what the Gospel truly is.
"This good news doesn't begin when we die. It certainly does address that issue, but it also tells us that there is good news for us now. … We can begin each day with the deeply encouraging realization that I am accepted by God, not on the basis of my personal performance, but on the basis of the infinitely perfect righteousness of Jesus Christ." – Jerry Bridges
---