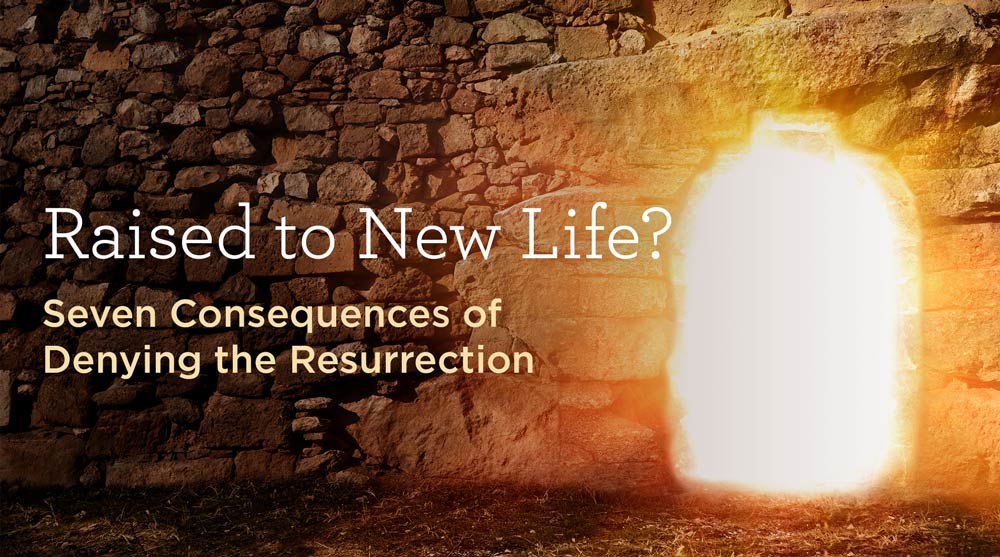 Do we really need to believe in a resurrection to have Christian faith? Some people think that we can be perfectly fine Christians without holding to the resurrection of the dead. We can practice Christian ethics, they say, and try our best to love our neighbors as Christ did. But in their minds, the resurrection is a mere addendum we can well do without.
The plain answer to this claim is that the only Jesus worthy of our faith is the Jesus of the Scriptures, and the Jesus of the Scriptures is a resurrected Jesus. Anyone may like Christian things and even do Christian things, but to actually be a Christian means believing in the Jesus of the New Testament—the Jesus who lived in history, the Jesus who rose from the dead.
The entire New Testament pulsates with this truth: the resurrection is absolutely, fundamentally vital. Remove it, and there are disastrous consequences. Paul outlines seven of those consequences in 1 Corinthians 15:12–20.
1. Without a Resurrection, Jesus Is Dead
Paul begins his discourse in 1 Corinthians 15:12 by addressing those who deny the possibility of bodily resurrection. They may very well have believed in the immortality of the soul. But the body? No way!
But Paul answers by saying that to deny bodily resurrection is to deny the resurrection of the one who makes any and all resurrections possible. Paul is simply taking us down the logical progression here: if there is no bodily resurrection, then "not even Christ has been raised" (v. 13). This fundamental implication sets up the six others that Paul lists.
2. Without a Resurrection, Preaching Is Vain
If Jesus has not been raised, Paul says, then preaching is vain and utterly useless. He's not referring here to the mere act of preaching. He's not talking in terms of a good sermon or a bad sermon. Rather, he's saying that the content of the Gospel itself would be devoid of power. The fact is, if you remove the resurrection, then neither the apostles nor twenty-first-century preachers have anything worthwhile to say.
Paul admits earlier in the epistle that the Gospel is "a stumbling block to Jews and folly to Gentiles" (1 Cor. 1:23). Nevertheless, God uses that seemingly foolish message to save His people and give them new life. To those whom God has sovereignly called, the message is "power" and "wisdom" (v. 24). Without a resurrection, however, the message remains a mere myth, bereft of any divine power.
3. Without a Resurrection, Faith Is Useless
If Christ has not been raised, then Gospel preaching is vain, and consequently, our faith is useless (1 Cor. 15:14). If the Gospel is a sham, then so is the faith that depends upon it.
Notice how Paul describes the Gospel earlier in this chapter:
I delivered to you as of first importance what I also received: that Christ died for our sins in accordance with the Scriptures, that he was buried, that he was raised on the third day in accordance with the Scriptures. (vv. 3–4)
Some people assert that what matters these days is that we have faith, and what they mean by faith is a sort of general pleasantry—good feelings, good vibes. The problem with this conception of faith is that faith requires an object. We must have faith in something.
Biblical faith is trust in revealed truth. It rests on an objective reality. As Luther said when writing on the Scriptures, "It is not the mark of a Christian mind to take no delight in assertions …. And by assertion—in order that we may not be misled by words—I mean a constant adhering, affirming, confessing, maintaining, and an invincible persevering."1 We must trust in the truth of Jesus Christ crucified and risen. Faith in Christ means we are committed to Him as the one who died and rose. Anything less than this is less than what the New Testament defines as Christian faith.
4. Without a Resurrection, We Bear False Witnesses
If there is no resurrection, the apostles and all who follow them are false witnesses: "We are even found to be misrepresenting God, because we testified about God that he raised Christ, whom he did not raise if it is true that the dead are not raised" (1 Cor. 15:15).
Paul is basically saying, "If there is no resurrection, then Jesus is not resurrected. And if Jesus is not resurrected, Peter was on the streets of Jerusalem lying through his teeth. And so was I in Athens when I came to that great pluralistic culture, and I saw those idols to the unknown god, and I said to them, 'Listen, folks: God has given proof of what I'm telling you by raising Jesus from the dead.' Without the resurrection, we have all been blaspheming God." (See Acts 2:24; 17:31.)
It's worth noting that when the apostles first preached the resurrection, they didn't have much to gain from a human perspective. They weren't becoming popular. They weren't making money. Instead, they were getting chased, beaten, hounded, trashed, imprisoned, and eventually put to death. What motivated them to keep on? It was their wholehearted belief in these words: "If while we were enemies we were reconciled to God by the death of his Son, much more, now that we are reconciled, shall we be saved by his life" (Rom. 5:10).
Such a belief didn't happen right away, though. Immediately after Calvary, the apostles' conviction was actually that Jesus was dead. At first, they didn't believe in Christ's resurrection either. When the women returned from the empty tomb and said, "He is no longer there; He has risen, just as He said" (see Matt. 28:6), the response of these men, on the basis of conviction, was basically, "You are out of your mind!" (see Luke 24:11). They did not start from the conviction that He was alive; they started from the conviction that He was dead. So how in the world did they hit the streets saying the absolute reverse of that?
What better explanation have we than this: The tomb was indeed empty. Jesus Christ has been raised.
5. Without a Resurrection, We're Stuck in Our Sins
For the sake of argument, though, Paul reminds us that if there is no resurrection, "you are still in your sins" (1 Cor. 15:17). In other words, all the bad things we know on this earth—all our sinful thoughts, all our rebellions, all our cheating, all our arrogance, all our vain attempts at self-righteousness—are still attached to us, and there is no way to get clean.
Apart from Christ, we're not simply misdirected or misguided. No, ours is a much deeper predicament: we are stuck in our sins, and we cannot get out. And what's more, we are burying ourselves deeper every day. Paul says that before Christ, "you were dead in the trespasses and sins in which you once walked" (Eph. 2:1–2, emphasis added). Without a resurrection, we are hopelessly trapped, and we have no recourse to liberate ourselves.
6. Without a Resurrection, the Dead Are Lost Forever
Moreover, without a resurrection, we're not only dead in our sins today, but we are doomed to perish without hope. (See 1 Cor. 15:18.) At many funerals, you'll hear these words of Jesus: "I am the resurrection and the life. Whoever believes in me, though he die, yet shall he live, and everyone who lives and believes in me shall never die" (John 11:25–26). If there is no resurrection, these words are nothing but a complex lie.
Without a resurrection, death is not falling asleep and waking up to see the smile on Jesus' face. (See Ps. 17:15; 2 Cor. 5:8.) Without a resurrection, death is a hard confirmation of our lostness. Without a resurrection, death spells doom. If you take away the resurrection, then our whole existence—our past, present, and future—amounts to absolutely nothing.
7. Without a Resurrection, We Are to Be Pitied
Finally, if there is no resurrection, and if Christ Himself has not been raised, then "we are of all people most to be pitied" (1 Cor 15:19). If we have believed in the future when there's actually no future at all, then we have passed our days in futility. If there's no hope for the future, then the present is irrelevant, yesterday is dead and gone, and tomorrow is out of sight. Ultimately, we have nowhere to go from here. It's oblivion. It's annihilation. When you're dead, you're gone, so any "hope" we have in this life is just manufactured to soothe us till we perish into nothingness.
Foundation for Joy
These seven consequences ought to disturb you. Indeed, total hopelessness is deeply dreadful! But we must go on to 1 Corinthians 15:20, which resounds with a simple yet astounding and momentous truth: Jesus Christ is alive!
Reinsert the resurrection, and all seven of these dire consequences are immediately reversed. Hope is reclaimed. If Christ has been raised, then you, believer, will one day rise with Him. That stunning fact floods your life with purpose—yesterday, today, and tomorrow. If Christ has been raised—and praise be to God that it is so!—then you have a steadfast, immovable hope in Him, and you have, of all people, the surest foundation for eternal joy.
---
This article has been adapted from the sermon "If Christ Has Not Been Raised, Then What?" by Alistair Begg.
---
---