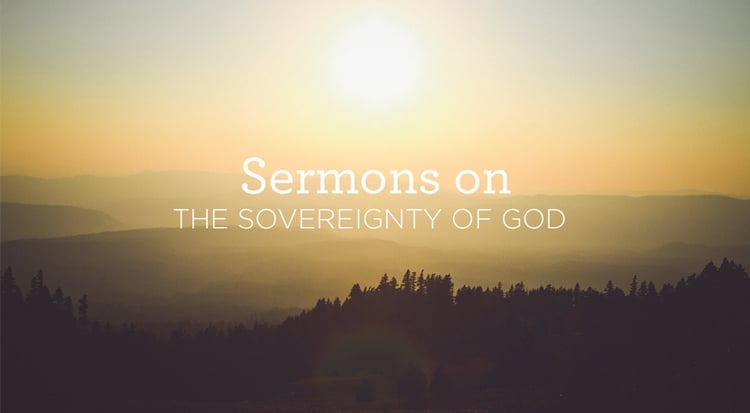 Download or listen to sermons by Alistair Begg about God's Sovereignty.
God is Still on the Throne (Daniel 1:1-21) — Listen | Download MP3 | Purchase CD ($1.25)
The book of Daniel opens with Jerusalem besieged by Babylon and God's people under the control of a pagan king. As Alistair Begg leads us through the conditions of Daniel's captivity and Daniel's response to those circumstances, we are reminded to keep our focus on the sovereignty of God. In the midst of our own persecution, we can look to the example of Christ and rest in God's promises to us.
Evangelism and the Sovereignty of God (John 6:35-40) — Listen | Download MP3 | Purchase CD ($1.25)
Jesus said, "No one can come to me unless the Father who sent me draws Him." And for those of us who want to share our faith with friends and family, we must ask the question: If God's in control, then what's our part in the process? We'll see the balance between our effort and God's sovereignty in this message.
O Father You are Sovereign! (Esther 5:1-14) — Listen | Download MP3 | Purchase CD ($1.25)
Esther's prayers were answered as she acted in faith and approached the king. Instead of making her request right away, she invited him to a banquet – and invited Haman, the Jews' enemy, as well! As we see the stark contrast between her wisdom and Haman's pride, we are encouraged by Alistair Begg to act wisely and depend on God's sovereign purpose.
Till All His Foes Submit (Ephesians 1:21-23) — Listen | Download MP3 | Purchase CD ($1.25)
The world has all kinds of ideas about what is required to fix its problems, but in this message, Alistair Begg points to the most essential need in the lives of all people. In his letter to the Ephesians, Paul wrote of his desire for them to become experientially aware of the power and authority of Jesus Christ. Affirming Christ's supremacy, His authority over the Church, and the security of the Christian in Jesus, Paul proclaimed the hope that can only be found in our risen, ascended, and reigning King.
Getting the Picture (Daniel 7:1-28)— Listen | Download MP3 | Purchase CD ($1.25)
Biblical prophecy can be confusing and difficult to understand. The apocalyptic images in Daniel 7 communicate truth in a way that is vivid and that can be understood by believers in every age and culture. In this message, Alistair Begg walks us through the terrors of Daniel's vision to its conclusion: the promise of the Son's unending dominion. We are reminded that God is the One who sets up and brings down authorities, and He is sovereignly in control of history.
If God Be For Us... (Romans 8:31-32) — Listen | Download MP3 | Purchase CD ($1.25)
Paul's "closing argument" in Romans 8 begins by encouraging believers to view everything that comes against us from a renewed perspective. The One who is for us is our victorious warrior King, and God, who gave His own Son to secure our salvation, will not fail to provide everything necessary to complete the work that His grace began.
---