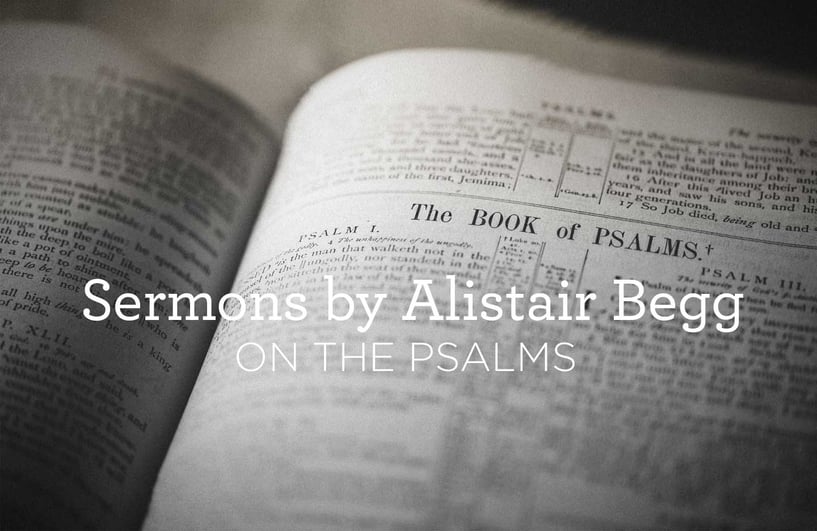 The Psalms is a collection of poetry that was often set to music. Through petition, praise, lament and song, the Psalmist articulates both the difficulties of living in a fallen world but also the eternal truths about the character of God. This book is a source of encouragement and hope, and it also provides an impetus for worship and prayer. Alistair Begg applies the ancient words of the Psalmist to our contemporary situation and reveals their wisdom.
Wise Living (Psalm 1) — Listen | Download MP3
Psalm 1 provides vital truths about wise living, showing us that a blessed life is not about feelings. Alistair Begg helps to draw us into the picture this Psalm describes, that of a fruitful tree thriving beside a flowing river. A life that God will bless is marked by separation from the world's standards, a love of God's Word, and a healthy, fruitful life that draws others to God.
My Times Are in Your Hands — Part One (Psalm 31) — Listen | Download MP3
The path of Christian faith is marked with periods of stress, difficulty, pain, and disappointment. In Part One of this two-part message, Alistair Begg begins to examine some basic truths regarding God's providence. The believer is not a victim of fate or chance, but can be confident that the Lord is aware of the details of everyday life and is working all things out according to His divine plan.
My Times Are in Your Hands — Part Two (Psalm 31) — Listen | Download MP3
In part two of his study, Alistair Begg teaches us that fully trusting God nullifies pride, panic, and self-pity in one's life, and instead fosters a sense of responsibility for our personal choices, humility in our acknowledgement of God's enabling and sustaining power, and security in knowing that God always knows best and has the believer firmly in His hand.
The Cry of a Fallen Leader (Psalm 51) — Listen | Download MP3
If anyone knew what it meant to have a conscience burdened by the guilt of sin, it was King David. The plots he initiated to conceal his sin did not ease His conscience. In fact, his behavior only made it worse. It was when David realized that he had transgressed against the Holy God - the One True God who promised to wash away his sin - that his burden was finally lifted. Like David, we must realize that, regardless of how stained we are, we can rest in God's unfailing love and mercy towards us.
Frail As Summer's Flower (Psalm 90) — Listen | Download MP3
People are uncomfortable talking or even thinking about death, yet it will happen to each of us at some point. Teaching from Psalm 90, Alistair Begg contrasts our brief lives with God's eternity and reminds us that we die because we rebel against His righteous ways. How can we prepare to meet a holy God? Only by trusting in the provision He has made in Christ. As believers rest in His mercy and grace, we gain wisdom to number our days aright.
The Lord Reigns (Psalm 97) — Listen | Download MP3
Man is still seeking the answers to the great questions in life: Why are we here? Where did we come from? What is our purpose? Psalm 97 provides the answer to every question man asks: The Lord reigns. Alistair Begg teaches us that when we bow to this truth, we will praise God, worship His majesty, and acknowledge the mystery of God. Only then will we finally understand that we exist to praise and glorify our Creator.
A Psalm for Giving Thanks (Psalms 100) — Listen | Download MP3
"Shout for joy to the Lord!" The psalmist's words are an invitation from God Himself, calling us to joyful worship and thankful praise. As Alistair Begg discusses God's call to thankfulness in this familiar psalm, we are reminded that our worship is to be based on the truths presented in His Word—that what we do has its basis in what we know. Depending on the Lord Jesus Christ's redeeming work enables us to enter his gates with praise.
Your Faithfulness Endures (Psalm 119:89-96) — Listen | Download MP3
"How does the Bible apply to my life?" It's a question often asked when readers don't see the connection between God's Word and God's world. Alistair Begg addresses this question head-on through turning our attention to the words of the Psalmist. By focusing on two simple yet revolutionary truths– the reality of God and the security of the believer– listeners are encouraged to stand firm on God's promises to His people found in His true, relevant, and unshakeable Word.
---