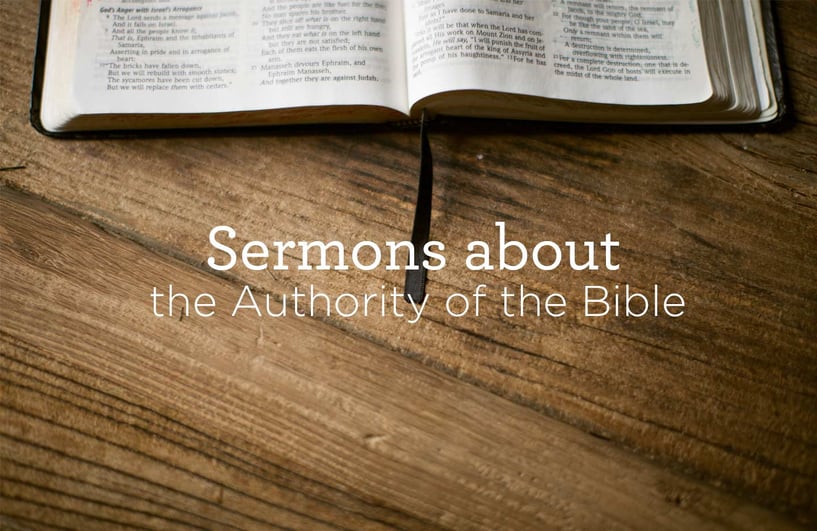 Some believe that the Bible is just a piece of literature to be read but to Christians, the Bible is God's Word. In these sermons, Alistair Begg examines why the Bible is important and reminds us that the Bible accomplishes its work in our lives as we trust in its authority as the inspired Word of God.
It's the best-selling book of all time. Written over a period of thousands of years, using forty different writers … today it's been translated into over one-hundred-thirty different languages. The Bible is a timeless and remarkable piece of historic literature. But is that all the Bible is … a classic book? Why bother with the Bible? Alistair Begg answers this relevant question as he studies a timely passage in Second Timothy chapter 3. Listen to Part Two and Part Three of Why Bother with the Bible?.
Do you believe the Christian Bible is the Word of God? Some debate the Bible as having no authority and being unreliable. Others debate parts of the Bible are reliable but other parts are not. Alistair Begg addresses these view points and provides thought provoking teaching on why the Bible is truthful in all parts, is the sole authority, and God inspired. Whichever side of the Bible battle debate you reside, listen today and provide your own personal reflection on the authority of Scripture.
Learning how to handle God's word is critical to our sanctification. Only the Holy Spirit can give an individual the desire to learn the scriptures, but we need to cultivate that desire and become disciplined in our quest for truth. Being disciplined includes using proper hermeneutics when we study our Bibles. In this sermon Alistair illustrates some key areas where this might apply.
Jesus exposed the hypocritical Pharisees for elevating their own rules and traditions over the law of God. In our attempt to keep God's law, we also are prone to develop our own rules and regulations in an effort to earn God's favor. Alistair Begg reminds us that human merit cannot make us right with God and that justification is an act of God's free grace. Listen to Part Two of Scripture and Tradition.
Like all ministers, Timothy was responsible to teach God's truth to his congregation. In this message by Alistair Begg, we learn how the Apostle Paul urged Timothy to rely on the Scriptures alone when instructing others – the same principle Jesus used in His ministry. The Bible accomplishes its work in our lives as we trust in its authority as the inspired Word of God.
---