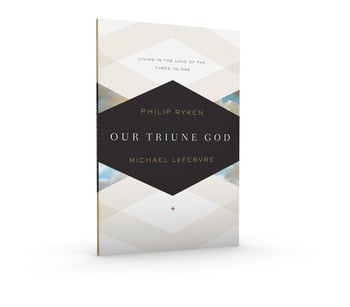 At the heart of Christianity is the worship of God for who He is and for all He has done. Wonderfully, God's Word reveals that He is triune; but that can be a vast truth to take in! What's the appropriate response to such a profound mystery as one God in three indivisible Persons?
Our Triune God, by Philip Ryken and Michael LeFebvre, offers some guidance. Beginning with the work of the triune God in salvation, we're reminded of all that God has brought about: "The Father is the one who organizes and oversees the plan of salvation....Second, there is the work of God the Son in accomplishing our salvation....Third, there is the work of God the Holy Spirit in applying our salvation. This is the plan, and the triune God has been working it out since before the beginning of time."
Rather than glossing over the mystery of the Trinity, Our Triune God invites us to reverently consider both Old and New Testament Scripture that glorifies God as three Persons. At the same time, the book also argues for the practicality of the Trinitarian doctrine and helps weigh out the powerful implications of God's triune nature for everyday life.
Using Biblical truth and solid theology, this month's resource is intentionally focused on the personal relationship of the individual believer with our mighty God. Gain a deeper knowledge of the grateful joy that exists within the three-in-one love of God as Father, Son, and Holy Spirit.
---