Dear Friend,
Here at Parkside, we've been studying the book of Daniel and paying particular attention to the lesson of God's sovereignty over earthly kingdoms.
It has proved to be timely as we reflect on the changes in our culture and find ourselves wondering just what is happening? We know that God is in charge, but it doesn't always seem so.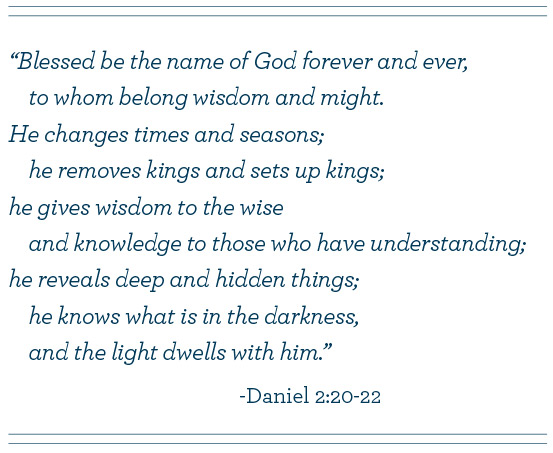 This is why it is so important to study our Bibles and learn history through the wide-angle lens given to us in Scripture. God is on the throne and overseeing worldly events, even though we have yet to gain the hindsight needed to understand all of His purposes.
It's not too hard to imagine that Daniel may have felt similarly. Exiled to Babylon, he was forced to serve a succession of kings who dismissed God's law to advance their personal desires and agendas. Ultimately however, God overruled their authority. The Bible makes it clear that while God sets up kings and governments, He reigns on an eternal throne and is sovereign from generation to generation. It's helpful to be comforted by this understanding when events around us make us feel unsettled. And, when as Christians we find ourselves increasingly in the minority, Daniel's steadfast faithfulness to the One True God in an unbelieving culture serves as a great encouragement.
These studies in Daniel have reinforced our commitment to the systematic, consecutive exposition of the Scripture. Approaching the text in this manner helps us to read the Bible in context, calls for the preacher to be well studied, and prevents the difficult passages from being avoided – and Daniel has a few of them!
Because you listen to Truth For Life, you know that we faithfully preach God's Word knowing that the Spirit of God can use this program to do the work of God in the lives of those who hear. We receive many letters that tell of God's grace and lives changed by faith in Christ Jesus. In a couple of weeks, we'll begin sharing some of these inspiring stories with you. I hope you'll take a few minutes to look through them knowing that your generous giving to Truth For Life helps make possible all we do to proclaim the Gospel.
Also, at the end of the month, we'll be offering some of my recent teaching from Daniel in a brand new release. I've enjoyed this study greatly and hope you will avail yourself to it!
With my love in the Lord Jesus,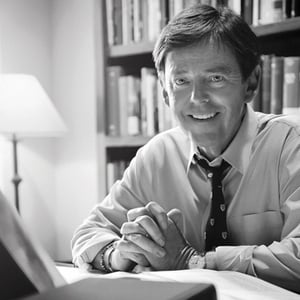 ---