Dear Friend,
There's no question that the believers in Thessalonica during the first century were radically transformed by the preaching of the Gospel. Prior to hearing Paul and Timothy proclaim salvation in Christ Jesus, the people there had practiced idolatry, believed in myths, and worshipped false gods. For those who received the Word, their response was dramatic and their lives were changed; they turned away from their idols and served the living God, looking forward in anticipation to Christ's return.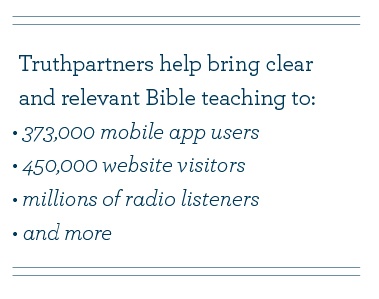 When we think about our own conversion, some of us may be able to recount an equally dramatic change. The power of the Spirit of God works through the Word of God to alter who we are, what we believe, and how we live. Paul says in his letter to the Thessalonians, ". . . our gospel came to you not only in word, but also in power and in the Holy Spirit and with full conviction" (1 Thess. 1:5).
Among the characteristics that mark us as Christians are a genuine desire to live a holy life and a passion for the souls of men and women who live outside of Jesus. Our desire for Jesus' return is paired with our longing for those who don't know Christ to discover who He is, why He came, and accept Him as their Lord and Savior.
Supported by your giving, we endeavor to preach the Gospel for this very reason – because we trust the Word of God to do the work of God as it reaches people globally through the podcast, website, tablet and smartphone app, CDs, DVDs, books, most recently streaming TV, and of course, through radio.
I hope you know how grateful I am for your financial support to Truth For Life. We have seen a 164% increase in free sermon downloads from our website in just the past two years! Routinely now, 2 million teaching messages are freely downloaded through either the website or the mobile apps each month.
Most notably however, the number of email and letters we receive is continually growing and the stories of lives changed by grace serve as a great encouragement to us – and I hope to you, as well. In fact, this month, we'll be airing just a few of the many comments from listeners on the program and will also make available a special feature on our website so that you can share your story too if you'd like at truthforlife.org/stories.
This month is a great time to become a Truthpartner! Truthpartners give evenly over twelve months in a way that provides a consistent stream of income greatly helpful to us when planning radio and website expenses. Truthpartners form the financial backbone of Truth For Life and make all we do possible. (Learn more about becoming a Truthpartner at truthforlife.org/truthpartner.)
In 1 Thessalonians, Paul encouraged the church by commending them for their work produced by faith, their labor prompted by love, and their endurance inspired by hope. I thank you in a similar manner for your prayers and giving to Truth For Life so that the Gospel can go out to the ends of the earth.
With my love in the Lord Jesus,
---