Dear Friend
Well, we finally did it!
After a gap of a mere 52 years, one of our Cleveland sports teams finally won a championship! The Cavaliers made history by coming from 3-1 down to beat the Warriors. I left for Scotland the day following the victory and wasn't able to be part of what was an unprecedented celebration.
You may have seen the crowd of 1.3 million on TV that poured into downtown to be part of the victory parade. Those who attended were struck by the extraordinary sense of joyful oneness and peaceful cohesion. The dividing walls of ethnicity, income, education level, and political affiliation virtually crumbled across all of Northeast Ohio with the single sound of a buzzer.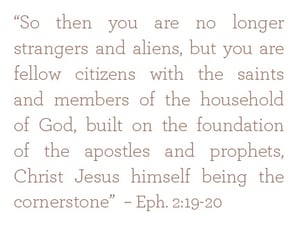 The coming together of Clevelanders was a rare glimpse (outside of the church) of the unity possible within our broken world. For one brief day, the image of a "great multitude that no one could number" spilling jubilantly into the Cleveland streets gave many an unfamiliar taste of harmony. At the same time, it served as a visual reminder that apart from Christ, such unity is not sustainable and will only be fleeting at best. When I departed from Britain, I left a nation in disarray in the aftermath of Brexit and returned home to watch Cleveland host a National Republican Convention marked by discord and contention. It's an important time for Christians to reflect the humility and peace of Christ for ultimately, as the Bible says, only Christ can permanently bring peace to people across all lines of racial, economic, generational, and social distinctions in our strife-filled, war-torn world.
Your partnership in the ministry of Truth For Life makes it possible for us to proclaim the kingdom of God and the hope that is found only in Christ. When you sign up to give monthly as a Truthpartner, you help care for the monthly expenses associated with distributing Truth For Life through more than 1,600 radio outlets, online, and through the mobile apps.
If you've benefited from the teaching of God's Word on Truth For Life, I'd like to ask you to become a Truthpartner this month. Truth For Life is entirely listener funded and your listening and free access to the teaching online comes from the generous giving of other listeners just like you. Thank you.
With my love in the Lord Jesus,

---