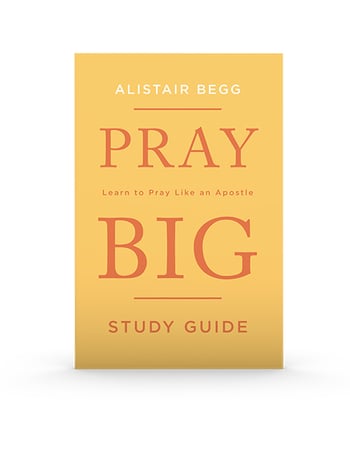 Do you struggle with prayer? So many of us do. Adopting a pattern of consistent prayer comes hard to most of us, and when we do pray, we often don't know what to say.
In the book Pray Big: Learn to Pray Like an Apostle, Alistair Begg helps us rejuvenate our prayer lives by examining the prayers of the apostle Paul in the book of Ephesians. When you read Pray Big, you'll discover that Paul prayed often, clearly enjoyed praying, and found it exciting to ask God to move in big, bold ways to build His kingdom. The truths that underpin and shape Paul's prayers for his friends in the church in Ephesus will motivate you to pray bigger and bolder too!
Read the book Pray Big by Alistair Begg and use the corresponding study guide with your Bible study group, or for individual study, to adopt a new pattern of prayer by learning from Paul. There's much to discover about how to pray, how often to pray, what to pray for, and even how to use the prayers in the book Pray Big to get started!
The Pray Big study guide contains ten lessons. Each lesson includes four parts:
Getting Started: a quote from the book, followed by an introductory question
Key Scriptures: important Bible verses referenced in the book
Going Deeper: questions to help you process the book's main ideas
Giving Praise: a poem or hymn to use to give God praise
You can also purchase copies of the study guide in our store.
Download the Study Guide for Free
---