Sibling rivalry, jealousy, betrayal, and imprisonment—there's no shortage of drama in the entangled story of Joseph as recorded in the book of Genesis. How did a boy left by his own brothers to die in a pit become a man of prominence in Egypt? Alistair Begg unpacks this epic drama in the captivating 24-message study titled The Hand of God.
One of Truth For Life's most popular series of all time, The Hand of God takes listeners verse by verse through this extraordinary Old Testament narrative. Learn how Joseph remained faithful through the most despairing difficulty and how God used his trials to accomplish His sovereign purpose.
This engaging story is rich with encouragement and makes a great stocking stuffer for a friend—and the convenient USB makes listening in your car easy! Purchase your copy of The Hand of God on USB for just $5 plus shipping.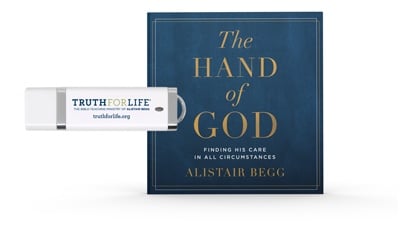 Life-changing studies like The Hand of God come to you at cost, with no markup, because listeners like you financially uphold this 100% listener-funded ministry. At this important time of year, will you please add a generous donation to your order today? Your giving will help make it possible for Truth For Life to enter 2019 fully funded and to press on in the new year, boldly proclaiming salvation in the Lord Jesus Christ!
Thank you.
---