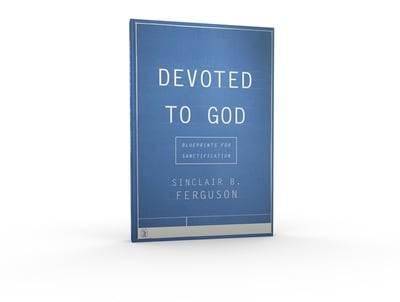 If we were to share our experiences as followers of Christ and students of the Bible, we would likely hear many different stories. The life change that has resulted from our conversions, however, would be remarkably similar, since the Holy Spirit fashions each one of us into the very likeness of Christ.
This process of change—which the Bible calls sanctification—alters our worldview and renews our mind. But what does this process of being transformed by grace into the holy image of Christ look like, and how does it happen?
Author and pastor Sinclair Ferguson describes the transformative process of sanctification in his insightful new book Devoted to God: Blueprints for Sanctification. Thought-provoking and thorough, Devoted to God reflects Ferguson's own decades of study and preaching. He insightfully guides readers through ten Scripture-enriched chapters, explaining what it means to be set apart for God.
Relentlessly focused on the Gospel, Ferguson writes, "It is as though suffering and trials are, in the Spirit's hands, the raw materials out of which He creates glory in us. So we learn to live our lives, and to see the sometimes painful process of being made holy, in the light of the final glory we will share with Christ. For this is where the whole process is heading."
If you desire to look deeply into God's work of sanctification and understand what it means to join Him in that work, set aside time now to read this important book.
---