Our featured resource this month, Lasting Love by Alistair Begg, is filled with biblical, practical advice for singles or couples seeking marriage or for those who have been married for decades.
Happily married for 40 years, Alistair points readers to the essentials of a long-lasting marriage, such as denying selfishness, setting up safeguards, communicating well, tending the relationship carefully, and showing appreciation:
How often do we use the words thank you, or I appreciate you, or I can't do without you? We can ask ourselves how long it has been since we complimented our spouse for some aspect of their character or their appearance. We might check to see when we last sent a special card or flowers or came home early so that they could have some time of their own free from other responsibilities.

It is too bad that we assume that intermittent bursts of appreciation, often driven by guilt, will be sufficient to compensate for the lack of consideration on a daily basis. It is not so much in the big events that we express this … but in the casual routine of apparently inconsequential events that we make it clear that we are not taking them for granted.

—Excerpt from Lasting Love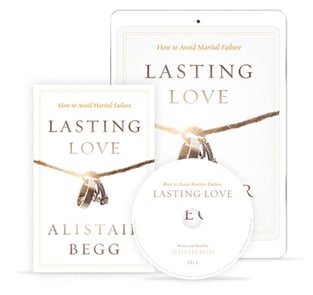 Available in the following formats:
If you are already a Truthpartner, call Customer Service at 1.888.588.7884 or email Truth For Life at truthpartners@truthforlife.org to request this monthly resource.
---