"Our teachers, our friends, our science, our studies, even our eyes can deceive us. But the Word of God is entirely true and always true: God's Word is firmly fixed in the heavens; it doesn't change. There is no limit to its perfection." – Kevin DeYoung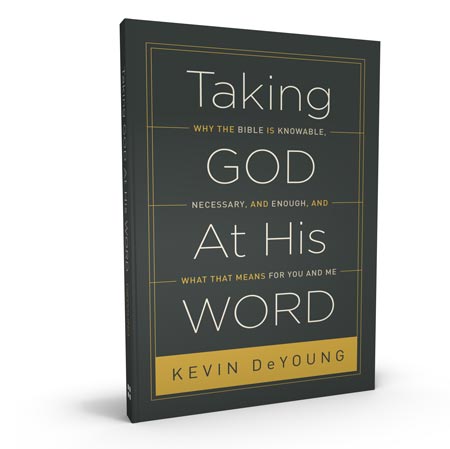 Taking God at His Word gives fresh insight into why we don't need a myriad of self-help books to navigate life's ups and downs. Instead, we can rely entirely on God's insight, wisdom, counsel, and instruction given in the Bible.
Examine the truth of God's Word with author and pastor Kevin DeYoung as he uncovers what the Bible says about itself and the key characteristics that contribute to its lasting significance and relevance to our lives today.
"All Scripture is breathed out by God and profitable for teaching, for reproof, for correction, and for training in righteousness, that the man of God may be complete, equipped for every good work." –2 Timothy 3:16-17 (ESV)
Available in soft cover and e-book version
If you are a Truthpartner, call Customer Service at 1.888.588.7884 or email Truth For Life at truthpartners@truthforlife.org to request this monthly resource.
---