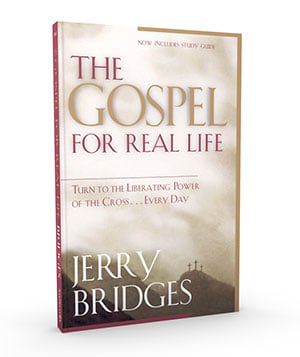 "Why do so many believers, including those deeply serious about their Christian commitment, live lives of quiet desperation? One answer is that we have a truncated view of the Gospel, tending to see it only as a door we walk through to become a Christian…we fail to see it as the basis of our day-to-day acceptance with Him." – Jerry Bridges
In all of the busyness of life, does the Gospel make a difference in our day-to-day attitude and behavior?
In The Gospel For Real Life: Turn to the Liberating Power of the Cross . . . Every Day, author Jerry Bridges helps us live each day knowing that our debt for sin has been paid and that our salvation is assured. By presenting the depth of our sinful state, and the grace of God in the provision of a Savior, he helps us look in the mirror so that we can live humbly and in daily thanksgiving to the Lord Jesus for His sacrifice on our behalf. Bridges skillfully brings the love of God into bold focus so that we can know true peace, joy, and oneness with Christ.
The Gospel For Real Life draws believers closer to the cross, and helps unbelievers gain a clearer understanding of the truth and life-saving power of the Gospel.
---