When you download an audio series from Truth For Life, it will be downloaded in a zip folder. You will need to unzip the file to reach the audio files within the folder.
It is easiest to download a series using the Safari app on Apple devices. Click on the link to download the series or audio book. A notice will appear asking if you want to download the file. Click "Download." If the link is in your email, click and hold down on the link and then select "Copy." Then open Safari and paste the link as the web address and click "Download" when it appears.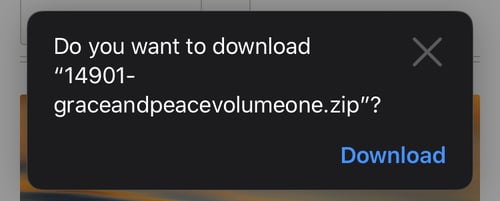 The file will download, and you can see its progress in the upper righthand corner with the icon that is a circle with an arrow pointing down.

Once the download is complete, click on the icon. Your downloads will appear. Click on the one you want to open.

Your Files app will open and show the zip file. Click on the zip file to unzip it. Another folder will appear and you can click on it to see the audio files. Click on the first one to begin listening.

If you want to listen to the messages later, you will find them in the Files app. They will be under your iCloud Drive, in your Downloads folder. If you wish to listen to the audio resource in iTunes or another media playing app, you will need to download the audio files on to a computer and add them to your iTunes account or another account. Then you can sync the iTunes account with the one on your device.
Download on Computer
To download an audio series to your computer, click on the link to download the entire series. The download may take a few minutes, depending on your internet connection speed. A zip folder will download with all of the audio files of the series. Double click on the zip file. The file will then be placed in your Downloads folder on your computer. Once the files are loaded, you should see a newly extracted folder available with the audio files listed in the folder. Click on one to listen to it on your media player on your computer.
If you have problems downloading a resource from Truth For Life to your smartphone or tablet, please feel free to contact us.

---