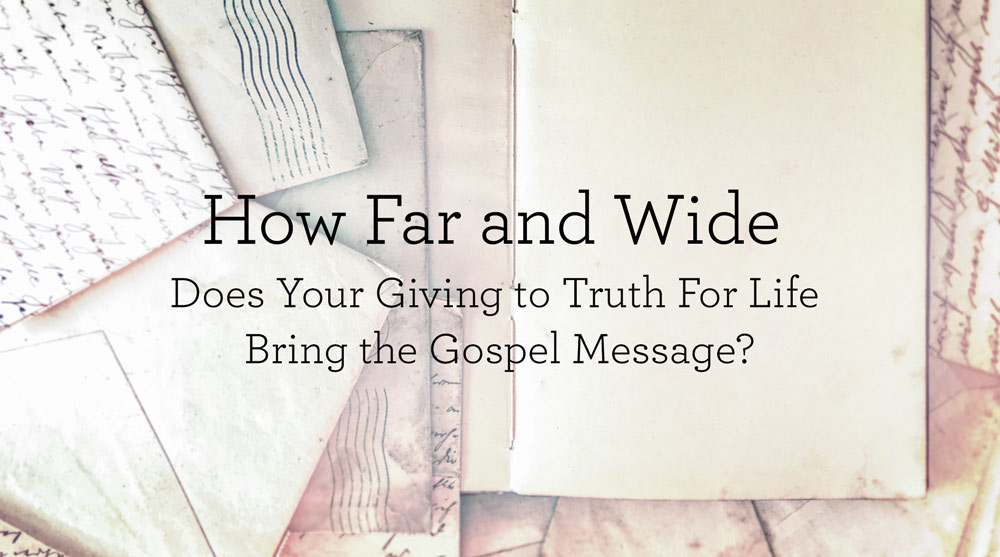 To our listening friends and partners in the Gospel,
We've heard from more listeners from all around the world this year than ever before! They've written to say how grateful they are to have a source of biblical truth they can trust. 2020 has affirmed that in times of fear and worry, people want teaching that's trustworthy and true. That's what Truth For Life is all about!
If you've looked to Truth For Life to navigate the stormy seas this year, will you lend your financial support today?
Truth For Life is 100% listener funded. The daily teaching and free online library are made possible through a remarkable collective partnership between our Cleveland team and you, our listeners. Together, our talents and resources fulfill Jesus' instruction to bring the Gospel to all of creation. Our heavenly Father has purposefully put us together in this extraordinary way.
Will you please reach out to us today and make a generous year-end donation?
Thank you,
The team at Truth For Life

"Thank you for streaming the Sunday worship services. I've been joining you here in Maine. God is great. God is good. He is present as I care for a husband with early-onset Alzheimer's. Truth For Life helps me keep my eyes fixed on my faithful Lord and Savior." —Belinda, Maine
"Thank you for faithfully bringing the Word to me on Sundays and weekdays while we're in lockdown. It brightens my day, and it is such a blessing to be able to worship along with you. My life is enriched by your teaching, and my faith is being increased. God is faithful to His people throughout every generation. Thank you for your ministry to me. It is encouraging me to minister to those around me who do not know the Lord. You are giving me tools I need to help me spread God's Word." —Barbara, New Jersey
"We have been so blessed by your faithful teaching over the years and are delighted to watch your streamed service each Sunday. Be assured that many of our friends tuning in during this time of COVID are similarly blessed. Be encouraged to know that your teaching, honesty, and commitment to the Gospel have helped us be better servants of our Lord." —Susan, West Australia
---