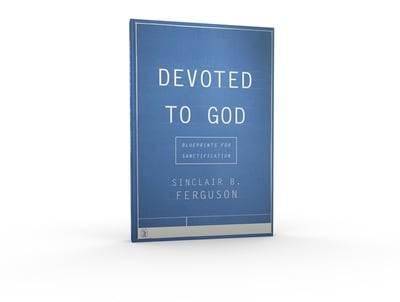 Daniel's devotion to God gives us all a high standard to aim for: total and unwavering faith. But how do we achieve that standard?
Sinclair Ferguson, theologian, author, and friend of Alistair Begg, explains that devotion to God is a journey. Over the course of life, true believers are sanctified by the Holy Spirit, growing in holiness and increasingly resembling Christ. This work begins at the moment of conversion and ends only with death.
In his new book Devoted to God: Blueprints for Sanctification, Ferguson presents a strong framework for practical Christian living, stressing several fundamental issues such as union with Christ, spiritual growth, the reality of spiritual conflict, and the role of God's law. His characteristically rich writing reflects his own lifetime of insightful study. In Ferguson's own words, Devoted to God "contains no novel teaching. It sets out with a distinctive goal: to provide a manual of biblical teaching on holiness….By the end of the book we will have worked our way together through some of the most important biblical blueprints for building an entire life of holiness."
Devoted to God is not a "how-to" book so much as a "how God does it" book. Learn how staying grounded in the Gospel facilitates the sanctifying work of the Holy Spirit throughout the Christian's life.
---