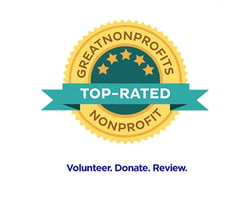 If you've benefited from the teaching you hear on Truth For Life, then tell more people! By sharing your feedback with others online at GreatNonprofits.org — a review site like TripAdvisor — you can help point others to the clear and relevant Bible teaching from Alistair Begg.
Will you post a review? It's easy and only takes 3 minutes! All reviews will be visible to potential donors and volunteers and it's a great way to raise visibility for Truth For Life and point people to the good news of the Gospel!
What Others are Saying About Truth For Life
"I love listening to Alistair Begg on Truth For Life. His teachings are biblical, true, and free, no matter where you are or what time of day it is, or which platform you use: radio, internet, blog, phone. His ministry is one of the Lord's many blessings in my life. Thank you, Truth For Life!"
"My husband starting listening to Alistair Begg on Truth for Life many years ago. And, while doing so he became a different man, husband and father. Alistair's passionate teaching mixed with a dash of humor and real life application turned my prideful physician spouse into a compassionate lover of the Word of God. All can see the change in him! Thank you Alistair and Truth for Life, your ministry has influenced our family tremendously and we are eternally grateful! PS~ We love sharing Jesus via Truth for Life with our friends and family!"
---