Happy New Year!
In chapter 5 of Ephesians, Paul encourages the believers in Ephesus to be filled with gratitude and to sing songs, "giving thanks always and for everything to God the Father in the name of our Lord Jesus Christ."
We spent an entire Sunday studying this brief passage late last year at Parkside and came away with a deeper understanding of Christian gratitude—we are to give thanks to God, in the name of Christ Jesus, always and for everything. Paul's instruction here is all-inclusive. Prayers of thanksgiving are to be offered to God continually, not just during seasons of blessing, but also and in equal measure when the wind is in our face. The Bible gives many examples of this: Daniel "prayed and gave thanks before his God" upon being sentenced to the lion's den; after Paul and Silas had many blows inflicted upon them and had been thrown into prison, they sang "hymns to God"; and Jesus gave thanks to God before being given up on our behalf.
It's an important reminder that thankfulness in the life of the Christian is not born from the upside of our circumstances. Rather, it comes from knowing that we have a loving, heavenly Father who is sovereign over not only the joy-filled days of our lives, but also the difficult ones. Romans 8 explains that God works for the good of those who love him—of those who have been called according to his purpose. Therefore, we can view trials, failures, discouragements, and losses as all working together under God's providence to fashion us into the likeness of Christ.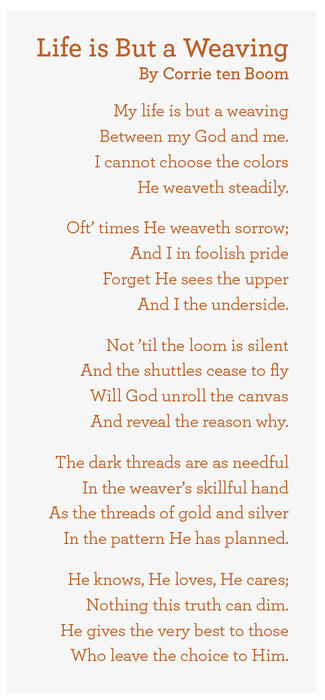 Last autumn, Sue and I visited Amsterdam and the home of Corrie ten Boom. Her life was marked with adversity, yet she remained continually thankful. As the new year begins, the poem she popularized, Life is But a Weaving, may be an encouragement to you.
If you're not familiar with Corrie ten Boom's story, told in her book The Hiding Place, you may find it well worth your time.
And, while I'm on the topic of thanks, let me extend my sincere appreciation to you for partnering with us so generously at the end of 2017. Because of your financial and prayerful commitment to bring the Gospel to others, we are amply equipped for another year of ministry in 2018. Thank you!
With my love in the Lord Jesus,

P.S. If you'd like to listen to the message "Giving Thanks," you can find it online at www.truthforlife.org/thankful
---