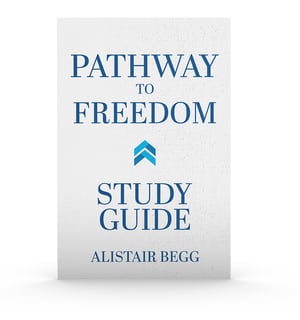 In the audio series Pathway to Freedom: How God's Laws Guide Our Lives, Alistair Begg teaches step by step through the Ten Commandments. He explains how each commandment points to the responsibilities laid upon us by our Creator—and, ultimately, to our need for saving grace. You'll learn that the Ten Commandments are not a ladder to climb to find acceptance with God; rather, they are a mirror that exposes our sin and our need a Savior.
The Pathway to Freedom study guide is a companion to the Pathway to Freedom audio series. It contains twelve sessions that dive deep into the most well-known list of moral precepts in human history. The study guide presents thought-provoking questions for individual reflection and group discussion.
Each session includes four parts:
Getting Started: a summary statement or commentary on the sermon, followed by an introductory question
Key Scriptures: important Bible verses that were referenced in the sermon and are highlighted for further meditation and memorization
Going Deeper: questions to help you process the main ideas of the sermon
Giving Praise: a poem or hymn that can be committed to memory, incorporated in worship, and used as the basis for prayer about what you have learned and considered
Printed copies are available for purchase.
Download the Study Guide for Free
---