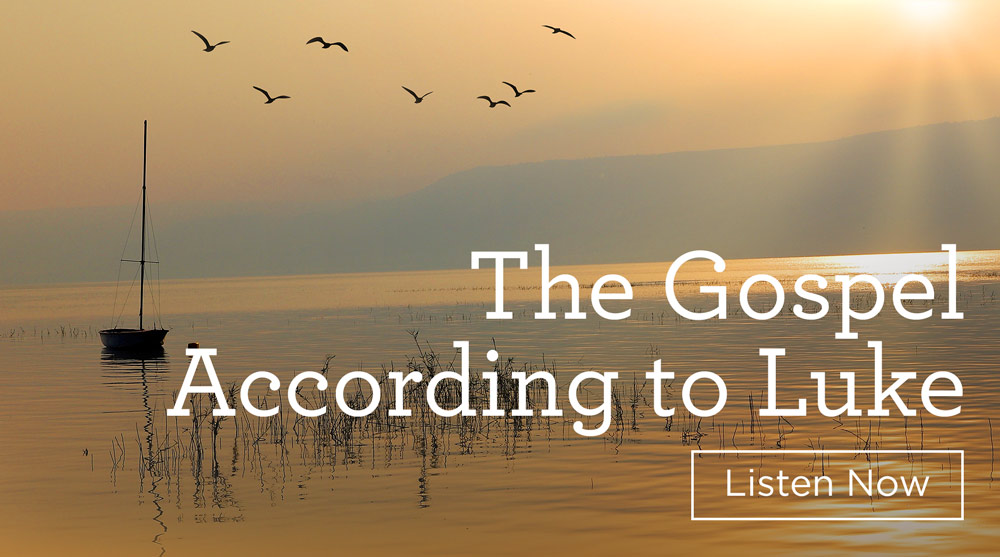 As the Gospel of Luke begins, its author declares his intent to compile "an orderly account" of the person of Jesus so that anyone who reads it "may have certainty concerning the things you have been taught." When we open its pages, this is exactly what we find. Tracing Jesus' life from His nativity and ministry to His crucifixion, death, resurrection, and ascension, Luke presents us with a portrait of a perfect, divine Savior in whom we can believe fully and securely.
As a well-traveled doctor and the only gentile writer in the New Testament, Luke set the story of Jesus' birth in the context of the Roman Empire and the secular world of its day. Walking us through these opening chapters, Alistair Begg shows us the necessity of the incarnation: that Jesus had to be fully human and fully God to be able to fulfill the plan for our salvation.
When John the Baptist first came on the scene, many thought he was the long-awaited Messiah. Though they regretted to learn that he wasn't, their disappointment was short-lived: even as John spoke, Christ was making His way into their region. Soon they would see Him and hear Him in person. In volume two of this series, Alistair Begg describes the explicit responses Christ provoked, with the people either believing Him fully or rejecting Him completely.
In volume three of this series, Alistair Begg focuses on the lordship of Christ and the contrast between the world's values and those of the believer's life. Jesus' early ministry and teaching focused on a wide range of themes, including the Sabbath, prayer, evangelism, mercy, love, forgiveness, dependence on God, obedience, and gratitude. Through it all, we catch glimpses of the Son of Man as He continued the journey that would lead him to Calvary.
In volume four of this series, Alistair Begg leads us through Jesus' interactions with a series of individuals, including His own disciples, a demon-possessed man, and the significant religious and political figures of His day. Confronted with the power of Christ, each had to come to a conclusion about who Jesus was—a decision that promised to change their lives forever.
In volume five of this series, Alistair Begg follows Luke 11's account of Christ's continuing ministry in Galilee. Jesus patiently taught His disciples to pray, performed a miracle, instructed the crowds, and defended the truth against the Pharisees and teachers of the law. At each step, He revealed the truth of who He truly was: the promised Messiah, the Son of God.
In volume six of this series, Alistair Begg examines several of Jesus' sermons, many of which included parables illustrating godly living. Woven through Jesus' lessons to the multitudes is one constant theme: "Repent now, before it's too late." His warnings are an important reminder to us that one day the opportunity to turn toward Him will have passed, and God's judgment will be exacted. Let us seek Him today, while He may be found!
In volume seven of this series, Alistair Begg follows Jesus as He interacts with the Pharisees and tells a number of well-known parables. Through these stories, Jesus provided a stern critique of those who use external religion to hide hearts of hypocrisy, pride, and selfishness. These lessons remind us that though God owes us nothing, His invitation for salvation is open to all who are willing to forsake their pride and humbly trust and obey Him.
In volume eight of this series, Alistair Begg leads us through Luke's narrative of Christ's journey to Jerusalem, where He would soon offer Himself as a sacrifice for the world. Along the way, Jesus revealed the topsy-turvy nature of God's kingdom—the last made first, the lost being found, outsiders being brought in, and sinners being made righteous. As He approached the cross, His words rebuked the prideful but promised hope to those who lean on His perfection.
In volume nine of this series, Alistair Begg leads us through Luke's account of Christ's life as His ministry and mission neared its culmination at Calvary. Preparing both His followers and enemies for His death and resurrection, Jesus answered questions about His authority and identity, warned unbelievers of the judgement to come, and comforted the faithful with the promise of eternal life and fellowship with God.
In volume ten of this series, Alistair Begg focuses on Luke's description of Jesus' last days with His disciples, betrayal, and arrest. Christ's compassion and love for His friends and enemies was clear in His words and actions. Even in His suffering and betrayal, we see God's sovereignty always at work. As His followers, we too will have trouble in the world—but we can trust that Jesus reigns over all and God is working everything for our good and His glory.
In volume eleven of this series, Alistair Begg walks us through Jesus' death, burial, and resurrection. Luke's account focuses not on the sensational details of Jesus' suffering but on what He accomplished at the cross. We see figures like Herod, the Roman centurion, Joseph of Arimathea, and the women at the tomb face an important decision: Will they go on as they always have, or will they be changed by the redemptive work and certain resurrection of Christ?
---