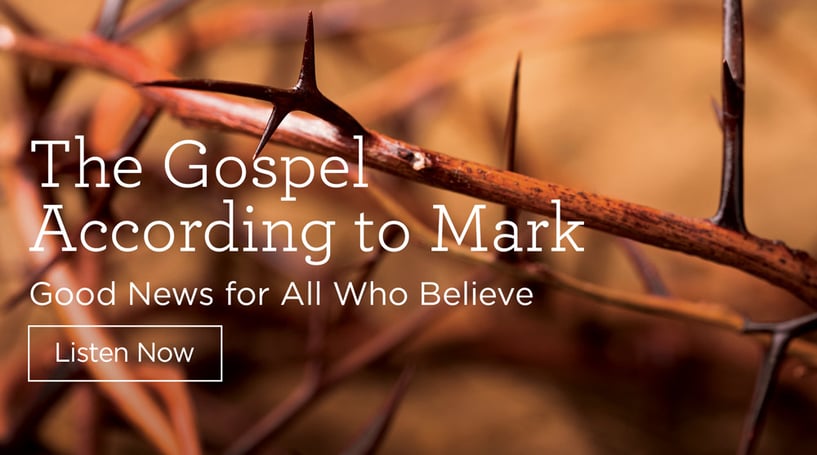 Mark's Gospel emphasizes the certainty that Jesus is the Christ, the Son of God, and the fulfillment of God's purpose. Attributed to John Mark, a contemporary of the disciple Peter, this Gospel is identified as Peter's first-hand account of life with Jesus. Mark provides vivid descriptions of the relationships between Jesus and the religious leaders, Jesus and His disciples, and Jesus and the multitudes who sought His miracles. Misconceptions about Jesus motivated each of these three groups to action: the religious leaders arrested Him, the disciples abandoned Him at the cross, and the crowd betrayed Him.
With nearly a third of the narrative dedicated to the passion and the resurrection of Jesus, the Gospel of Mark aims to persuade its readers to believe in Christ's sacrifice and come to saving faith in Him. In these studies by Alistair Begg, we'll come to know Jesus as Mark presents Him: Messiah, Suffering Servant, Son of God, Risen Christ, and Returning King.
Volume 1: Listen | Download Zip || Purchase: CD Series | DVD Series | MP3 CD
The first two chapters of Mark reveal Jesus as He interacted with those around Him, including His enemy, the devil. We are reminded that Christ's arrival onto the stage of human history was a redemptive event that was ordained by God. As Alistair Begg takes us through this section of Scripture, we discover that Jesus deals with a common theme – sin. Whether we are indifferent towards sin or think that our goodness neutralizes our sin, every person must realize that we are lost apart from the forgiveness available in Christ.
Volume 2: Listen | Download Zip || Purchase: CD Series | DVD Series | MP3 CD
As Alistair Begg teaches from Mark 3 through 5, we are introduced to a variety of individuals, including Jesus' motley crew of disciples, a suffering woman, and a naked, demon-possessed man. Their stories of radical transformation testify to Christ's power. Mark's parables and miracles remind us that, although life brings struggles, there is ultimately One who rules and reigns, and He will eventually make all things right.
Volume 3: Listen | Download Zip || Purchase: CD Series | DVD Series | MP3 CD
As Alistair Begg takes us through Mark 6 and 7, we see Jesus demonstrating His divine nature, calling stubborn people to faith and repentance. These accounts illustrate that the depravity of the human heart is the same today as it was when Jesus walked the earth. Some people are simply indifferent toward the Gospel, others are beguiled by their own lust, and still others place their confidence in religious externalism. Despite all of our contemptible ways, we who trust in Christ like a child will be healed, guided, and kept by the great Shepherd of our souls.
Volume 4: Listen | Download Zip || Purchase: CD Series | DVD Series | MP3 CD
In Mark Chapters 8 and 9, Jesus' followers struggled to understand who He really was and the implications of His mission. Jesus patiently taught His disciples with the same grace that He shows us. Alistair Begg takes us through Jesus' teachings on matters which are as applicable to us today as they were then: the cost of discipleship, sin, and hell. These discussions lead to the ultimate questions we all must consider: who is Jesus, why did He come, and what does that mean for us?
Volume 5: Listen | Download Zip || Purchase: CD Series | DVD Series | MP3 CD
In chapters 10 and 11 of Mark's Gospel, Jesus revealed His eternal wisdom as He interacted with those around Him. In their normal pattern, the Pharisees sought to undermine the divine authority of Jesus by questioning His understanding of the law. The disciples, who thought they knew the purpose of Jesus' mission, displayed great pride and ignorance by their actions. Others sought to prove to Jesus that they were righteous by their own merit. Alistair Begg shows us that God's people should humbly receive the truth like a little child, knowing that without His grace we are helpless.
Volume 6: Listen | Download Zip || Purchase: CD Series | DVD Series | MP3 CD
In Mark 12 and 13, Jesus was repeatedly confronted by those who sought to question and undermine His authority. One by one, He shut down their challenges with surprising answers that revealed His divine nature. Alistair Begg helps us see ourselves in these instances and points us to the One who can open our spiritually blind eyes. Christ, through His unchanging Word and the work of the Holy Spirit, will prepare and sustain His people until He returns in glory.
Volume 7: Listen | Download Zip || Purchase: CD Series | DVD Series | MP3 CD
In Mark 14, we see God's hand continues to orchestrate His redemption plan, despite attempts to thwart Christ's mission. The evil actions of men like Judas did not take God by surprise. We cannot always understand why God uses sin and affliction to carry out His will, but it is always for the ultimate good of His people. Alistair Begg shows us that even Jesus, in His humanity, asked His Father to remove the suffering that was planned for Him, but through His obedience, we are reconciled to God.
Volume 8: Listen | Download Zip || Purchase: CD Series | DVD Series | MP3 CD
The final volume of this series brings us to Jesus' death and resurrection. Alistair Begg reminds us that we can see a bit of ourselves in each person who played a role in the crucifixion story. We may be shaken in our faith like Peter, indifferent like Pilate, or frightened like the women who discovered the empty tomb. We too must deal with the fact that Jesus died to make atonement for sin, but rose again to reign in Heaven. What we do with this information is a decision with eternal consequences.
Purchase the 8 Volume Set: USB ($5) | MP3 CD ($14.25)| CD Series ($136.50) | DVD Series ($136.50)
---