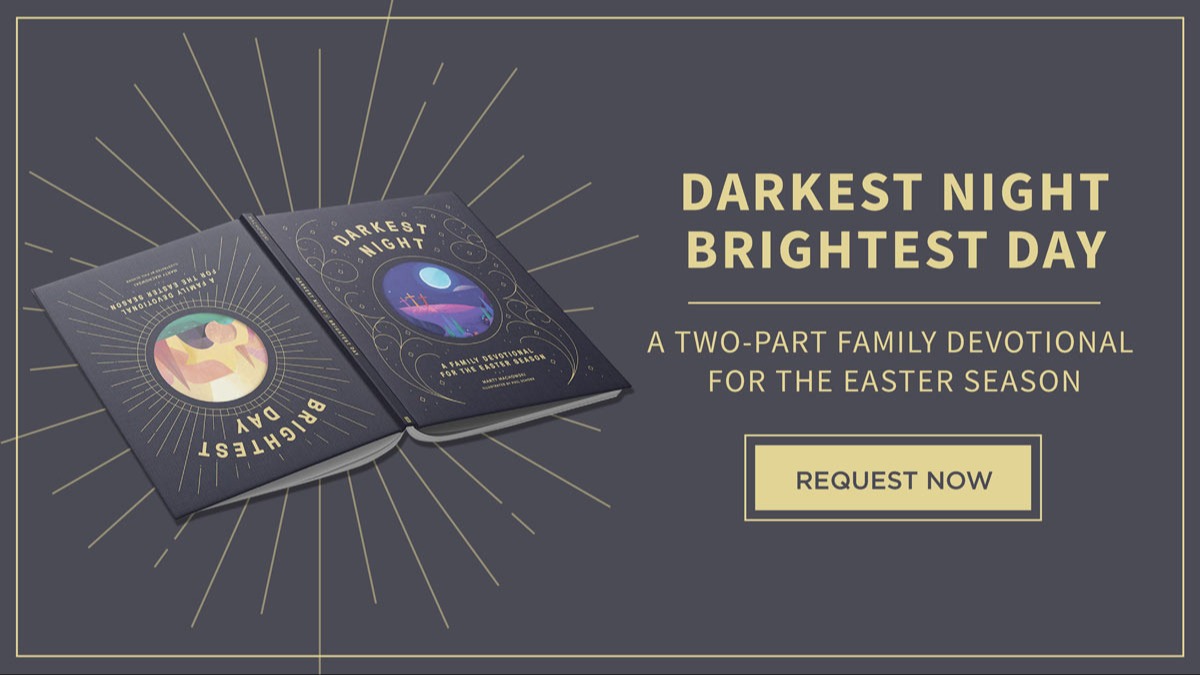 As you look ahead to Easter, explore the extraordinary events of Jesus' death, resurrection, and ascension with your entire family. The devotional Darkest Night, Brightest Day presents fourteen daily readings that begin with Jesus' triumphant entry into Jerusalem and conclude with the arrival of the promised Holy Spirit at Pentecost.
The Easter season presents the perfect opportunity for you to spend time unpacking all that Jesus did to secure our salvation with your school-age children so that they can more fully understand the Christian faith.
All fourteen daily readings in Darkest Night, Brightest Day are drawn directly from the Gospels. The unique design of this devotional tells the salvation story by visually dividing the historical events into two parts. The first half of the book is titled "Darkest Night," and it records the last week of Jesus' life. You and your family will read together about the final Passover meal Jesus shared with His disciples, Jesus' arrest and trial before Caiaphas, Judas's betrayal, Jesus' death on the cross, and His burial in Joseph's tomb.
To read the second half of the book, you flip the book over to continue with "Brightest Day." The readings in this half of the book detail Christ's resurrection, His visit with the disciples on the road to Emmaus, Christ's ascension, and, finally, the mighty rush of wind that accompanied the coming of the Holy Spirit at Pentecost. The clever visual reversal of the book will help children see how the world was turned upside down when Christ rose from the dead. The "Brightest Day" half of the book also includes stories from 1 Corinthians and Acts, showing the extended impact that the resurrection had on Jesus' followers.
Each daily reading is followed by a few discussion questions that you can use to spark conversation with family. You'll also find the answers to the questions at the end of each chapter to facilitate your dialogue.
Darkest Night, Brightest Day is colorfully illustrated and a highly recommended way for you and your family to meditate on the miracle of God's gift of salvation through the Lord Jesus Christ.

---