Dear Friend,
One of the benefits of living in Cleveland is being able to enjoy the seasons. Some days I feel envious of those who are in short sleeves while I'm adding another layer. Today the ground is blanketed in snow. There is hardly a hint of green and even the birds seem to be singing in a minor key. But beneath the surface there is life, unseen but real and growing. In a matter of a few weeks, it will be apparent as we enjoy the beauty of spring.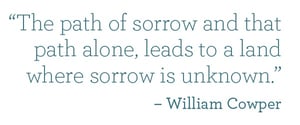 I think it is fair to think of there being seasons in our souls. There are times when we find ourselves enjoying a spiritual summer. From sunrise to sunset we sense that we are living under God's smile and we wish that these days may never end. These times may not prove to be the most beneficial to our spiritual welfare. One of the Puritan writers commented on how the believers may fall asleep in the sunshine but not in the storm.
When autumn turns to winter in our souls, we may be tempted to believe that during these long nights and short days, we are devoid of life. We maintain our disciplines, but have no immediate sense of spiritual progress. It is easy at such times to succumb to the insinuation of our enemy. We may find ourselves, like the Psalmist, envying the wicked and in danger of losing our spiritual equilibrium.
It may only be in retrospect that we will see that God was at work in the dark and in ways not immediately apparent. William Cowper certainly knew what it was to feel abandoned and forlorn but he took himself in hand, as we must do, by resting in God's Word.
"The bud may have a bitter taste
but sweet will be the flower."
So wherever you are on this March morning, and in whatever condition of soul, look to Christ and to the promises of Scripture.
With my love in the Lord Jesus,

---