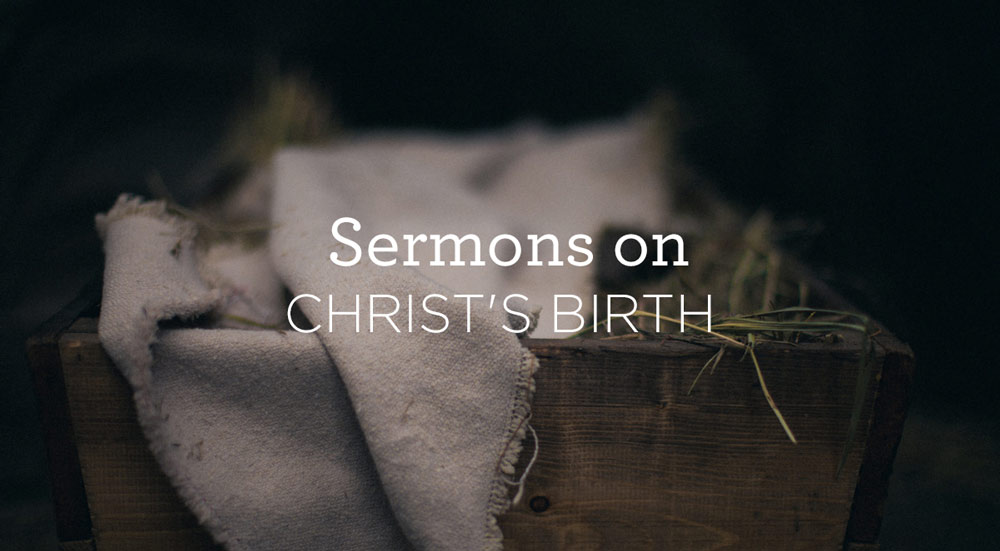 What is Christmas really about? For some, it may be about decorating the Christmas tree, spending time with family and friends, and exchanging gifts. For those in Christ, though, Christmas's meaning rests solely in celebrating the birth of Christ. In these sermons, Alistair Begg reminds us that behind the hustle and bustle of the holiday season, God has given us the greatest gift of all: His Son, Jesus Christ.
The Birth of Jesus Christ — Part One (Luke 2:1-5) — Listen | Download MP3
Luke tells the story of Christ's birth in just seven verses, but his brevity holds no bearing on the importance of the events that unfolded. In this study, Alistair Begg shows how the brief gospel account uses detail, not drama, to establish its real-world context. Jesus was not born in a vacuum, but to real people at a real place in time. Each one of us must consider the historical evidence of the birth of Christ and the relevance that the story has for our lives today. Listen to Part Two
Jesus Saves (Matthew 1:21) — Listen | Download MP3
Are you ready for Christmas? It's possible to believe many things about Jesus without ever trusting Him. Alistair Begg urges us to consider that because we are sinners, our greatest need is salvation—to be rescued from our rejection of Jesus for a relationship with Him by His own sacrifice on the cross. God's gift of salvation is not related to our performance. It is ours when we receive the Savior whose coming we celebrate during the Christmas season.
The Purpose of Advent (1 John 3:1) — Listen | Download MP3
What is Christmas really about? What is the cause for all the celebrations? Alistair Begg explains that Advent is more than just "the most wonderful time of the year." Jesus Christ was born to take away our sins, to destroy the works of the devil, to make the Father known, and to prepare for His own return.
God's Indescribable Gift (2 Corinthians 9:15) — Listen | Download MP3
At Christmastime, all kinds of gifts come to mind – some are just what we want, some are practical, and some are necessities. Alistair Begg turns our attention to Scripture to see a gift that is unlike any other, one that God has given freely at His own expense. God's gift to us in Christ is great beyond description, and when we acknowledge our sin we find that it is exactly what we need.
The Reconciling God (2 Corinthians 5:19) — Listen | Download MP3
Christmas carols are a familiar part of our Christmas traditions, but the best carols do more than set the mood for our celebrations. In this Christmas Eve message, Alistair Begg reflects on the lessons that we can learn from the carols, which exhort us to consider who Jesus is and what He has done and to adore Him with wonder. The invitation of the carols is the invitation of the Gospel – to receive as our own the reconciliation that God has initiated through the saving work of His Son.
Why Did Jesus Come? (Luke 4:14-30) — Listen | Download MP3
Why did Jesus come to earth? In this Christmas message, Alistair Begg shares three reasons that the Bible provides for why Christ came. Because all people are stuck in our sinful nature with no way to save ourselves, Jesus was sent by God from heaven to be the Savior of the world. The birth of the Messiah is good news for all people because it points ultimately to the hope we can have because of His death and resurrection.
---