by Sally Lloyd-Jones
Also from Sally Lloyd-Jones, author of this month's featured resource The Jesus Storybook Bible, is a collection of 101 simple, yet profound thoughts on faith. Thoughts to Make Your Heart Sing shares spiritual truths from the Bible told in a conversational tone drawing insights from creation, history, science, and the writings of great thinkers, preachers and writers. Appropriate for children age 6 and up, Thoughts to Make Your Heart Sing is theologically rich with content and reveals biblical truth in words and images that are inspirational and educational.
---
by Marty Machowski
The Gospel Story Bible introduces children to the people, places and events in the Bible while showing how each story ultimately points to Jesus. Children will meet Christ and learn to recognize Him as the hero of every story. This book is illustrated using vibrant colors and includes helpful, child-friendly discussion questions. Scripture references accompany each of the narratives.
---
by David Helm
The Kingdom of God series airing on Truth For Life through October 22 tells the overarching story of redemption from Genesis to Revelation. Telling the same story in language children will understand, The Big Picture Story Bible contains 26 stories for children ages 2-7 that show how Christ is present in every book of the Bible. Simply written and colorfully illustrated, this book teaches children to appreciate the fulfillment of God's promise to His people.
---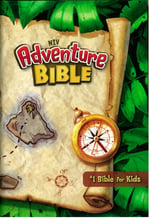 by Larry Richards and Sue W. Richards
The Adventure Bible helps young readers discover what life was like in the ancient world. Young children will learn about the people whose lives are documented in the pages of Scripture. Children will also be introduced to God's Word and key verses that communicate God's plan for our salvation. The Adventure Bible is best suited for children age 9 and up and contains useful facts about each book of the Bible, a dictionary for looking up unfamiliar words, and color maps.
---
by Gospel Light
A book for young children ages 4-6, God's Story for Me contains easy to read Bible stories and colorfully illustrated pages. This collection of essential stories helps children understand the basics of the Christian Faith. God's Story for Me also makes for a helpful tool for Sunday school teachers.
---
by Carine MacKenzie
My 1st Book Of Questions and Answers provides simple, easily understood explanations to deep questions about what it means to be a Christian. Containing clear, straight-forward answers about the Christian faith, this book by Carine MacKenzie is organized around 114 questions followed by answers backed by Scripture in language young children will understand. Other helpful books by Carine MacKenzie include My 1st Book of Christian Values and My 1st Book of Memory Verses.
---
by Lee Strobel
For independent readers pondering the true story of Jesus Christ, Case for Christ for Kids answers questions like: Was Jesus really born in a stable? Did his friends tell the truth? Did he really come back from the dead? Modified for a young audience, Lee Stobel, the award-winning legal editor of The Chicago Tribune and the best-selling author of The Case for Christ and The Case for Faith, puts investigative fact to the accounts of Jesus in a narrative designed for young readers. Case for Christ for Kids contains well-researched and reliable investigations of some of the biggest questions young people have pertaining to the existence, miracles, ministry, and resurrection of Jesus of Nazareth.
---
by Elizabeth George
Drawing from the wisdom of the book of Proverbs, God's Wisdom for Little Girls encourages young girls to apply the positive traits and qualities illustrated in each verse. Intricate illustrations supplement the text, which emphasizes that there is more to being a girl than simply being sweet and nice. God desires for them to be helpful, confident, thoughtful, eager, prayerful, creative, cheerful, and kind.
---
by Jim George and Elizabeth George
The teaching of Proverbs is the basis of this book for young boys, ages 4-7. In God's Wisdom for Little Boys, authors Jim and Elizabeth George present a collection of rhymes to help young boys remember important truths to live by. God desires boys to be prayerful, thankful, responsible, kind, brave and truthful. God's Wisdom for Little Boys is a helpful first book to encourage young boys become men of God.
---
by Sally Lloyd-Jones
Songs of the Stars contains colorfully illustrated pictures and an easy-to-read story that describes the birth of Christ. The book tells the story of how the animals and the earth eagerly await the birth of the coming Messiah, knowing that the time has come. This Christmas story is appropriate for children age 4 and up.
---