by: Alistair Begg
Explore the very first songs that celebrate the coming of the Savior. In Christmas Playlist: Four Songs that Bring You to the Heart of Christmas, Alistair Begg looks at the songs sung before, during, and after the birth of the baby who lies at the heart of the real Christmas. Unpacking the words of Mary, Zechariah, the Angels, and Simeon, Alistair reveals the beauty and joy in these lyrics recorded in the Gospel of Luke. Christmas Playlist is perfect for preparing the heart for the miracle of Christmas and for sharing the story of God's love with an unbelieving friend.
$3.00 Order Now »
---
by: Alistair Begg
In Hand of God, Alistair asks if we are hapless victims of life's whims. Are we driven along by some blind and impersonal force? Are we battered by circumstances beyond all control? A thousand times, "No!" says Alistair. Instead, he says we are the objects of God's providential care. We reside under His guiding and protecting hand. It's an amazing and comforting fact: God rules and overrules in the circumstances of life. He is neither a capricious nor a vindictive authority, quite the contrary. God works throughout the circumstances of life to bring about something miraculous - something abundantly good - even out of what we perceive to be our darkest moments. So take comfort, weary traveler, and read on. Soon, you'll pack up the baggage of your past, the fears of your present, and the prospects of your future - and entrust them all into the hand of the God who cares.
$6.65 Order Now »
---
by: Alistair Begg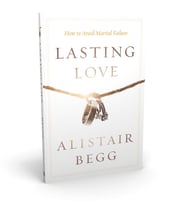 No one enters into marriage with the intention of failing. Each person who says, "I do" hopes for a long and beautiful life together with their spouse. But as time passes, couples forget the basics. Too often they become so wrapped up in their own lives that they neglect the essentials critical to a healthy marriage.
Too often divorce is an acceptable norm. In this candid book, Alistair Begg reveals important building blocks for ensuring that your marriage is one that will last a lifetime. He reminds us that when men and women understand their roles of leadership, submission, teamwork, and mutual respect, love can last a lifetime.
$4.00 Order Now »
---
by: Alistair Begg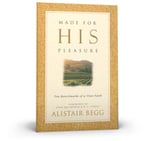 This book offers a heartwarming look at Biblical theology in every-day clothes. Alistair uses endearing stories from his own life to provide practical illustrations of what it means to please God in the face of a variety of life's experiences, including suffering, materialism, relationships and vocation. The ten benchmarks he offers are as vital for seasoned followers as well as for the new Christians who read them.
$5.75 Order Now »

---
by: Alistair Begg and Sinclair Ferguson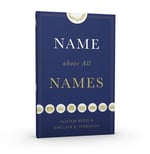 From Alistair Begg and fellow Bible teacher, Sinclair Ferguson, Name Above All Names helps us deepen our knowledge and love of Christ.
"This book, as its title suggests, is a brief exposition of what Christians often refer to as 'the person and work of Christ.' Its focus is on some of the different ways in which the Bible portrays Christ's identity and describes His ministry. The chapters are by no means exhaustive. They cover only seven of the many descriptions of Jesus found in the Bible, and none of those descriptions is treated exhaustively. So these pages are meant as a taster, a beginning exploration. Our joint prayer is that they will help some who are not yet Christians, be an eye opener to those who already are, serve as an encouragement for mature believers, and be a pleasure for all who love Christ." – Alistair Begg and Sinclair Ferguson
$3.00 Order Now »
Order the corresponding study guide for $1.00 each
---
by: Alistair Begg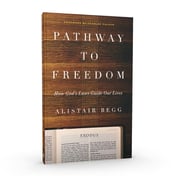 A Study on the Ten Commandments by Alistair Begg provides a 21st century understanding of these ancient and significant words from God. Jesus said to His disciples, "If you love Me, keep My commandments" (John 14:15). Learn this important truth presented in Alistair's clear and straightforward style. You'll learn about the relationship between the Law and Love, Jesus' understanding and teaching of the law, the age-old battle between legalism and license, and more.
$4.00 Order Now »
---
by: Alistair Begg
Recognizing the need for a return to Biblical preaching, Alistair Begg has written this compelling booklet. In it he not only defines Biblical preaching but tells how to accomplish it, explains its distinctive characteristics, and demonstrates its importance in the life of a church.
Every Christian—pastor or not—is responsible to study the Scriptures and to learn to handle the Word correctly. This booklet aids in discerning how well one's church is doing in this area and offers suggestions for ensuring that the entire Body of Christ is being not only fed, but spiritually nourished.
$3.00 Order Now »

---
by: Alistair Begg and Derek Prime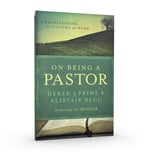 On Being a Pastor is an essential book written to help pastors fulfill the demanding nature of ministry. A pastor's responsibilities are unique, requiring that he nurture his own spiritual life as well as that of the people in his care. Derek Prime and Alistair Begg provide sound advice for both the spiritual and practical aspects of this high calling and delve deep into topics including prayer, devotional habits, preaching, and specific ministry duties.
$4.00 Order Now »
---
by: Charles Spurgeon, Updated by Alistair Begg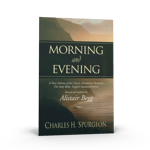 Now you can benefit from the spiritual encouragement to be found in this devotional. Noted pastor and author Alistair Begg has updated Spurgeon's language while preserving the dignity and clarity of Spurgeon's original words. This new revision uses the English Standard Version for the Scripture text. You will enjoy the reliable words of the ESV, a version of the Bible that combines accuracy of translation, readability, and beauty of expression.
Find strength for today and hope for tomorrow through Spurgeon's faithful teaching of Scripture.
$8.05 Order Now »

---
by: Alistair Begg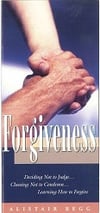 Archbishop Temple said, "To return evil for good is devilish. To return good for good is human. To return good for evil is divine." Forgiveness is not some little extra part of the Christian experience; it is at the very heart of it. Yet, each of us, if we're honest, is inclined to discover and condemn the faults of others while passing lightly over our own sorry sins. How, then, can we forgive people who wrong us? Should we have to? What happens if we refuse to forgive someone? Jesus tackles these very issues in Luke 6:36-38, and in this booklet, Alistair Begg looks at what those verses mean for the Christian.
$1.50 Order Now »
---
by: Alistair Begg
Pain and disappointment are not unusual experiences to the Christian, despite what some might have us believe. The issue is not whether we will face difficulties, but rather how we will respond when they come. Verse 15 of Psalm 31 reads, "My times are in your hands." These six words are the affirmation of the person who knows himself to be, despite disasters and difficulties, under the care of Almighty God. It is this certainty that will bring equilibrium to us in the span of events that would inflate our egos or crush our souls. In this booklet Alistair Begg considers the implications this phrase has for believers. If our times are in His hands, then: We are not trapped by blind forces. We are not being tossed about on the ocean of chance. We are being trained in the school of God's providence. Prosperity should not be the occasion of pride. Uncertainty should not be the occasion of panic. Adversity must not become the occasion of self-pity. There is a responsibility to be faced. Humility must be fostered. There is a security to be found. My Times Are in God's Hands will prove to be a useful tool in helping today's Christian understand what it really means to be cared for by the Lord.
$1.50 Order Now »
---
by: Alistair Begg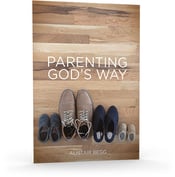 For the last three decades, the idea of the traditional family has been under cultural assault. Every movement from the so-called sexual revolution to same-sex parenting has taken it's toll on the foundational building blocks of our society. How do parents navigate these challenges? God, the perfect Father, provides the answers. In this short, but wisdom-rich booklet, Alistair Begg, gives practical, biblical instruction on what it looks like to be a father and to be a mother . . . God's way.
$2.00 Order Now »
---
by: Alistair Begg
As men and women both inside and outside the church become increasingly confused about what the believe and why, it is imperative that we make sure that we have a solid grasp of the "essentials."Nowhere is this more necessary than in the matter of the person and work of Jesus Christ. If we are able to identify the fraudulent statements concerning Christ which are found in Mormonism and other cults, we must pay careful attention to biblical truth. It is essential that we are able to clearly answer the questions: What did He say? What does it mean and what does it matter?
$1.50 Order Now »

---